Index: Puerto Rico one of region's least corrupt islands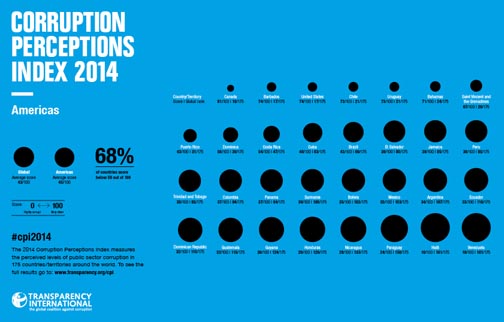 WASHINGTON — Despite Puerto Rico's ongoing fiscal crisis and allegations of corruption by enemies of Gov. Alejandro García-Padilla, business executives and foreign investors still perceive the Commonwealth as relatively clean by Caribbean standards.
Transparency International's 2014 Corruption Perceptions Index, released earlier this month, shows Puerto Rico scoring 63 on a scale of zero to 100, with zero being the most corrupt and 100 representing the cleanest. The island tied for 31st place worldwide this year — along with Portugal, Cyprus and the African nation of Botswana — up from 33rd place in 2013 and 32nd the year before.
In the Caribbean, only Barbados (with a score of 74), the Bahamas (71) and St. Vincent (67) outranked Puerto Rico. That puts the "Isla del Encanto" slightly ahead of Dominica (which scored 58) and way ahead of Cuba (46), Jamaica (38), Trinidad & Tobago (38), Suriname (36), Dominican Republic (32), Guyana (30) and Haiti (19).
Antigua & Barbuda, Aruba, Cayman Islands, Curaçao, Grenada, St. Lucia, St. Kitts and the U.S. Virgin Islands weren't included in the TI index.
"Remember, this is a perception index. It's telling you the perception that market analysts or people in the private sector have of corruption in the public sectors of those countries," said Alejandro Salas, TI's regional director for Latin America, speaking by phone from Berlin. "For a country to be included in our ranking, we need at least three surveys to have the most objective picture of the country as possible."
Mainly institutions such as the World Bank, the World Economic Forum and the Economist Intelligence Unit conduct these surveys, he said.
On top globally was squeaky-clean Denmark, with a score of 92, followed closely by New Zealand (91), Finland (89) and Sweden (87). The United States scored 74.
Banks bear down on laundering
Over the years, Puerto Rico's banking institutions have become more aggressive in detecting and reporting possible money laundering activity.
Arturo Carrión, executive director of the Puerto Rico Bankers Association, said in 2012 that Puerto Rico now ranks 27th among U.S. jurisdictions in blowing the whistle on shady banking. Over the last 10 years, he said, more than 48,000 suspicious activity reports have been filed with local and federal authorities, resulting in nearly 60 local arrests and the seizure of weapons, equipment and hundreds of thousands of dollars.
On the other hand, this past May, 16 current and former police officers were arrested on corruption charges ranging from extortion and planting evidence to allegedly taking bribes to protect drug dealers.
In September, an Iowa-based political action committee called the American Future Fund took out ads in Politico and the Wall Street Journal, accusing García-Padilla's pro-commonwealth Popular Democratic Party of fostering a culture of corruption that "resembles the rogue governments" of Argentina's Cristina Kirchner and Venezuela's Nicolás Maduro.
Under the governor's rule, says one ad, "Puerto Rico has racked up huge levels of public debt through the opaque and politically controlled Government Development Bank, at the expense of unsuspecting investors; violated the U.S. Constitution by enacting an illegal bankruptcy law that destroys the rights of creditors and eviscerates individual pensions that are invested in the island's public utility, and trumped up charges against a private bank in order to seize the bank's assets to enrich political cronies," the ad charged.
It also claims the García-Padilla administration "threatened a New York-based rating agency with investigation and persecution after the agency downgraded the island's creditworthiness, and presided over public corruption that has transformed Puerto Rico into a major transit point in the global drug trade originating from Venezuela."
Antonio J. Colorado, the island's former secretary of state and resident commissioner in Washington, said the ads are part of an ongoing smear campaign by the pro-statehood New Progressive Party.
"They just want to hurt García-Padilla," said Colorado. "There has not been one case of corruption in the last two years. Obviously, we've had problems and a lot of people went to jail, but that was many years ago."
The veteran Popular Democratic Party politician added: "Yes, we may have some corruption here and there, but 99 percent of the officials of our party — and even the governments from the other party — have been basically honest."
Talking openly about the problem
Heidie Calero, president of H. Calero Consulting Group Inc., said that in the past, corruption in Puerto Rico was never talked about as openly as it is today — but that sadly, the private sector is just as tainted as the government.
"It always takes two for corrupt deals to go through: the one who offers the deal, and the one who takes it. In my opinion, both should be punished," Calero told NIMB. "We need to clean up Puerto Rico's image with clean public servants, as was the tradition for many decades. Serving the people — not your pockets — should be the motto, and now is as good a time as any to clean up our act. We did it before and we can do it again, with zero tolerance for corruption."
When compared to other Latin American jurisdictions, only Chile and Uruguay — which each scored 73 — did better than Puerto Rico on the 2014 Corruption Perceptions Index. All told, Latin American countries scored an average of 40 on the zero-to-100 scale — slightly below the worldwide average of 43.
Nicaragua, with a score of 28, was perceived as the most corrupt nation in Central America, though not in all of Latin America. That title goes to oil-rich but economically troubled Venezuela, which, like Haiti, received a rating of 19. Tying for last place among the 175 nations in the TI survey were North Korea and Somalia, with a score of only 8.
"One would think poverty is an important factor, but it is not," TI's Salas told us. "Panama is strongly perceived as a country with a bad reputation for money laundering. And of all Latin American countries, Venezuela is at the bottom, but it's relatively rich. It's not the poverty of a country which matters but the weakness of its institutions."
Michael Shifter, president of Inter-American Dialogue, said the annual CPI rankings should be taken seriously.
"Perceptions don't always precisely line up with reality, but they certainly influence peoples' decisions about whether they're going to invest [in a specific country]," he said. "In that sense, they're important."
Colorado doesn't agree. "I don't think they mean much," he said of the index. "It's only a perception, but sometimes perception becomes reality."