DACO seeks to regulate online group coupon sales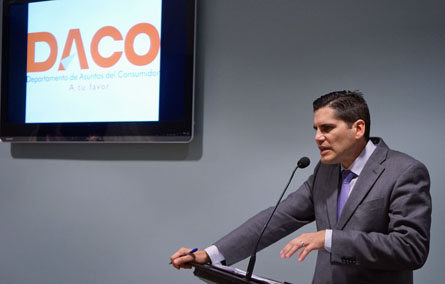 The Consumer Affairs Department is looking to regulate the online sale of group coupons through a regulation that would protect consumers from fraudulent offers.
During a news conference Wednesday, Nery Adames, head of the agency known as DACO in Spanish, said the idea is to keep up with new retail trends.
"At DACO we evolve with new consumption trends and for this reason we decided to present this innovative project that seeks once again to protect consumers," Adames said during a news conference. "What we want is that citizen are clearly exposed to the details of the offer, that they are satisfied, and business moves normally.
The proposed Rules Regulating the Practice of Group Purchases and Sales would apply to goods and services offered by companies such as Gustazos, Groupon, Groopanda, Oferta del Día, ¡Pero qué descuentos!, CityOferta, and JoinAJoin, among others.
If approved, the Regulation seeks to establish, among other things, that companies must take responsibility for making sure that the information provided by the vendor in its offer is clear and appropriate. It also states that the company and the merchant may not refuse to refund the price paid if the good is defective, does not meet the representations, or is unfit for the purpose it was bought.
As this media outlet has previously reported, the group discount coupon industry began gaining ground about two years ago, as Puerto Rican began changing their shopping habits in response to the island's soured economy. As a result, the number of companies offering group coupon offers proliferated quickly, offering deep discounts on everything from manicures to hotel stays.
The proposed DACO regulation will give the public 30 days to express their opinion before it becomes official. Consumers can read the draft document at www.daco.pr.gov, or through the agency's Facebook page.
The agency will hold a public hearing Mar. 7 at 9:30 a.m. at its Hato Rey headquarters.