DR/PR ferry to resume route after 3-month hiatus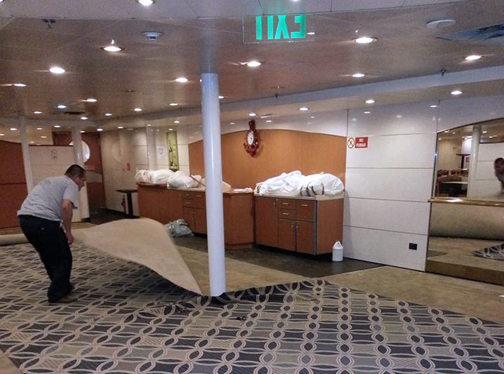 Three months after dropping anchor on its maritime route between Puerto Rico and the Dominican Republic, America Cruise Ferries will resume offering the service today, following a $6 million mechanical and esthetic remodeling of the Caribbean Fantasy ship.
The improvements included exterior painting of the Caribbean Fantasy, conditioning of the common areas, including such as two clubs, a restaurant and installing new upholstery in the passenger seating area, company executives said.
The investment was split between $5 million for mechanical improvements and $1 million for the cosmetic makeover.
"We're very excited to provide all our travelers a renovated boat with better facilities. We have worked hard to continue providing the fun, entertainment and family environment to which we are accustomed to," said Néstor González, chief executive of Marine Express, the shipping agent of America Cruise Ferries.
In April, Marine Express received approval for a $6.5 million loan from the Puerto Rico Economic Development Bank to remain afloat after feeling the waves of the recession. The financing helped the company retain 96 jobs.
In 2013, Marine Express renewed its tax exemption agreement with the Treasury Department, in place for 20 years since it began offering maritime cargo transportation services between the Dominican Republic and Puerto Rico out of the Mayagüez port.
America Cruise Ferries launched the passenger and cargo route in June 2011 out of Mayagüez, but subsequently moved to San Juan's Panamerican Pier, from which it connects three times a week out to the Don Diego Terminal in Santo Domingo.