Experts: Board head Jaresko revived Ukraine's economy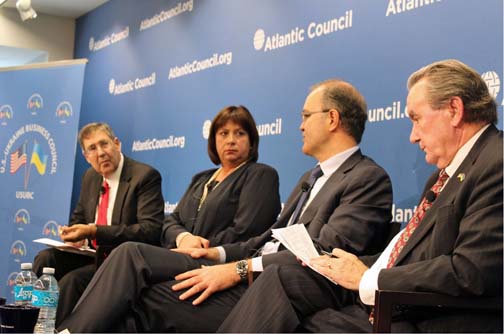 Ukraine, 66 times the land area of Puerto Rico, is the largest country wholly within Europe. The Texas-size former Soviet republic has precious little in common with the tiny U.S. commonwealth except that both are rapidly losing population — and both face huge fiscal challenges ahead.
Yet Ukraine's economy has finally turned the corner and has begun growing, while Puerto Rico remains mired in debt, with no short-term way out of its crisis.
But with former Ukrainian Finance Minister Natalie Jaresko now executive director of the island's Financial Oversight Board, Puerto Rico at least is on the right path to recovery, say experts who know Jaresko and are familiar with her achievements.
"She inherited in Ukraine an extremely dangerous and unstable financial situation," said John Herbst, a former U.S. ambassador to Ukraine. "That's what she's walking into in Puerto Rico. She was able to greatly reduce the deficit, which is essentially the core job she now faces in her new responsibility."
Herbst was Washington's envoy in Kiev from 2003 to 2006. But in 1990 — as the USSR was collapsing — he headed the State Department's Office of Soviet Affairs, and Jaresko was his intern.
Today, Herbst is director of the Atlantic Council's Dinu Patriciu Eurasia Center, which lists Jaresko as a distinguished fellow. In a phone interview from Washington, he told NIMB that "in both cases, you have a budget deficit out of control."
"Natalie had to oversee a process where there were reductions in social spending and benefits. So in that sense, it's very similar, but of course Puerto Rico is not Ukraine," he said. "There's a specific problem of corruption in Ukraine which probably dwarfs any corruption problem in Puerto Rico. But the notion of curtailing spending and increasing revenues does translate from one country to another."
Swedish economist Anders Åslund, a Ukraine expert and a senior fellow at the Atlantic Council, said Jaresko slashed the ex-Soviet republic's $18 billion fiscal deficit from 10 percent of GDP in 2014 to 2 percent in 2016, after only 17 months on the job. Public spending, meanwhile, fell from 53 percent of GDP to 44 percent.
But that didn't necessarily make her popular with Ukraine's 42.5 million citizens.
"Of course, people don't like a minister of finance who cuts public expenditures, but this is the basis for Ukraine now having a stable economy that has started to grow," Åslund said. He noted that Ukraine's GDP grew by 2.3 percent last year and is likely to expand by at least 2.5 percent in 2017 — despite Russia's annexation of Crimea three years ago, ongoing fighting by pro-Russian separatists in eastern Ukraine and the fastest-shrinking population of any country on Earth (it's expected to have only 35 million inhabitants by 2050).
By comparison, Puerto Rico's — which is also suffering a population decline — will see its GDP will fall by 2 percent this year, predicts the Economist Intelligence Unit.
"Natalie tackled Ukraine's large fiscal deficit by imposing hard budget constraints and pushed strongly for very important reforms, such as tax reform, fiscal decentralization, budget data transparency. She worked in very difficult circumstances of escalating conflict in the East, slow and inefficient bureaucracy and vested interests trying to derail her efforts," said Olena Bilan, chief economist at Dragon Capital, Ukraine's leading investment bank.
"Sovereign debt restructuring, which she negotiated, enabled Ukraine to reduce debt-to-GDP ratio and put it on a sustainable trajectory. This experience should be valuable in Natalie's current position," Bilan said.
Commonalities: Fiscal consolidation, debt restructuring
In March, the Chicago-born Jaresko, 51, was selected among 300 applicants to head the Financial Oversight Board. As such, she receives a $625,000 annual salary plus travel expenses from Kiev — a far cry from the $200 a month she earned as finance minister of Ukraine.
Yet Jaresko now urges drastic budget cuts in education, healthcare and other public expenditures as the only way to put Puerto Rico's financial house back in order.
"Ukraine and Puerto Rico have two big things in common. You need a fiscal consolidation and you need debt restructuring. This is what she has done in Ukraine," Åslund told this media outlet. "If you have done it in one place you can do it another place."
He added: "It's also a question of knowing the people involved, the same who pop up all over. You have a certain number of investment banks and lawyers who specialize in debt restructuring. The difference is that in this case, it's not the IMF that's involved, but the U.S. Treasury."
Timothy Ash, a senior emerging markets sovereign strategist for Bluebay Asset Management, called Jaresko "very professional, very passionate, clean and direct" in a phone interview from London.
"I think she faced an incredibly difficult challenge in Ukraine," he said. "She achieved a lot in a short period of time. In the end, the politics defeated her, but she was very focused on doing the right thing in a difficult situation."
Ash said Ukraine's endemic corruption made Jaresko's job even tougher, yet in the end she managed to secure a $40 billion loan from the IMF, with contributions from the United States and Germany. Even so, Jaresko warned at a recent Atlantic Council event that Ukraine still needs another $25 billion in funds to avoid economic crisis.
"She was grappling to restructure the Ministry of Finance, but most of the problems were in the state fiscal service, which wasn't under her command," Ash said. "She wanted to address that, and it was a political decision to bring the service under her wing — but that didn't happen until after she left."
Herbst, calling Jaresko's tenure as finance minister "an exceptional performance," said it allowed Ukraine to move from a country on the verge of default to relative stability — so much so that at one point, she nearly became Ukraine's prime minister.
"Her very strong reforms helped persuade the IMF and the EBRD [European Bank for Reconstruction and Development] to provide billions of dollars in stabilization loans — setting the stage for growth despite the ongoing war with Russia," the former U.S. diplomat said of Jaresko. "Just about everything she did was good, and nothing has been undone."