Roblex Aviation seeks Ch. 11 protection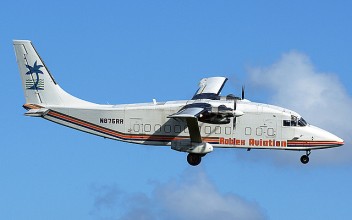 For the second time in as many years, Puerto Rican cargo airline Roblex Aviation has filed for Chapter 11 bankruptcy protection, listing more than $637,208 in debt.
The company, which has been in business since 1997, owes the Internal Revenue Service the most, listing $151,000 in debt, followed by the Puerto Rico Treasury Department ($149,052), and the Puerto Rico Ports Authority ($103,590).
Roblex Aviation owns a fleet of seven SHORT 360-300 turbo-prop aircraft to provide cargo services throughout the Caribbean out the Muñiz Air National Guard Base in Carolina.
The company first sought the U.S. Bankruptcy Court's protection in January 2011.
Selectos Ciudadela owes $10M
In related bankruptcy news, Selectos Whole Foods Inc., which filed for Ch. 11 protection earlier this month for the upscale Selectos grocery store at the Ciudadela apartment complex in Santurce, filed its full petition with the court, listing $10.2 million in debt.
That total is about twice the amount included in the partial filing at the beginning of June, a few days prior to closing the store. The extensive list of creditors includes a handful of government agencies, several banks, and several dozen food suppliers.
The Economic Development Bank, is owed more than $2 million, American Express Corporate Card, $352,517, the Puerto Rico Electric Power Authority, more than $304,000, and the Selectos corporate warehouse is owed more than $329,000, the filing shows.