Rosselló calls for increased Medicare Advantage funding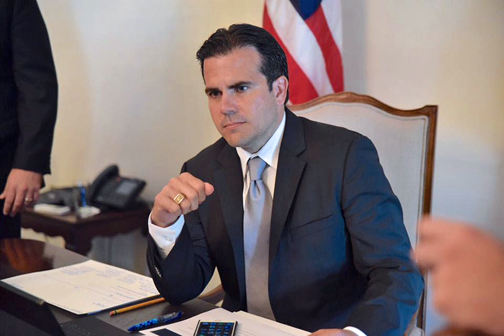 Gov. Ricardo Rosselló sent a letter Wednesday to Acting-Secretary of Health and Human Services, Norris Cochran, advocating for increased funding to the Medicare Advantage plans operating in Puerto Rico, which serve over 570,000 elderly island residents including some of the most vulnerable among them.
The governor's letter called for meaning policy adjustments to the rates paid by the Centers for Medicare & Medicaid Services to Medicare Advantage plans operating in Puerto Rico in anticipation of the Feb. 1 release of the annual proposed payment rate notice, which will be effective in 2018.
He expressed his intention to collaborate with HHS in drafting proposals, "that protect and enhance funding levels in the upcoming proposed rule."
Since 2011, changes in the Medicare Advantage payment formula that resulted from the Affordable Care Act have resulted in reductions payment benchmark reductions of more than 20 percent for such plans in Puerto Rico, the governor's office said.
Yet during the same period, the U.S. average benchmark has increased by 4 percent, it was noted.
Currently, the Medicare Advantage benchmark in Puerto Rico has fallen to 43 percent below the U.S. average, and 38 percent below the average of the lowest state Hawaii.
"This disproportionate reduction in Medicare Advantage rates in Puerto Rico is generating grave consequences for the island's healthcare system which is already heavily strained by other significant disparities in treatment under federal healthcare programs, most notably under Medicaid," La Fortaleza said in a statement.
Puerto Rico currently receives only one third of the total federal resources for healthcare when compared to the U.S. average of all states.
In the letter, Rosselló said addressing Puerto Rico's Medicare and Medicaid disparities is critical not only to the viability of the island's healthcare system, but also to its fiscal recovery and efforts to restore economic growth.
To address the issue, Rosselló has lobbied for more equitable treatment for Puerto Rico under federal health care programs one of the guiding priorities of his administration. Toward that end, on Jan. 16, Rosselló issued Executive Order 117-012 creating a "Multi-Sector Working Group on Puerto Rico's Federal Healthcare Issues," which is expected to begin meetings in San Juan and Washington, D.C. in the coming weeks.
"Safeguarding the healthcare of the people of Puerto Rico is one of my top priorities and is of critical importance to the proper functioning of our economy and society," Rosselló said.
"Calling on HHS and the Centers for Medicare & Medicaid Services to take this opportunity to address the Medicare Advantage funding disparity impacting Puerto Rico is but one of the many advocacy efforts that my administration will undertake before federal officials to better meet the health care needs of island residents," he said Wednesday.