Gov.-elect Rosselló proposes DMO to spur P.R. tourism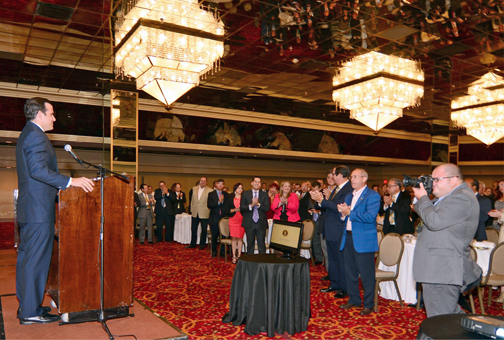 Gov.-elect Ricardo Rosselló said Tuesday his administration will delegate the task of promoting Puerto Rico to an independent Destination Management Organization, or DMO, putting the responsibility in the hands of the "sector that knows tourism and the island's assets."
During his first public presentation after being elected the island's next governor, Rosselló told members of the Puerto Rico Chamber of Commerce that taking the responsibility away from the government will ensure the sector's growth and continuity.
"The government will oversee that it does its job. In five years, this change can produce close to 22,000 jobs because it will generate trust within the tourism sector itself, as well as among people visiting Puerto Rico," Rosselló said.
Puerto Rico was close to having a DMO — which would have been responsible for overseeing marketing efforts and continuity for the island under a single brand and as a unified front representing all of Puerto Rico's tourism components — four years ago, at the tail end of Gov. Luis Fortuño's administration.
In September 2012, he signed an executive order to establish a public-private workgroup to outline the structure and duties of the DMO, which was followed by a draft bill. But the concept and bill were shelved when Gov. Alejandro García-Padilla won the elections that year.
"Promoting Puerto Rico as an industrial destination, as a destination for medical tourism are examples of opportunities that the government manages today that we can outsource and allow sectors that know to run them," Rosselló said.
His announcement drew quick reaction from several key tourism executives who agreed Puerto Rico would benefit immediately from a DMO.
Milton Segarra, president of Meet Puerto Rico — the island's certified DMO for groups and conventions business — said creating a DMO to market the island is a "critical step to be able to establish the foundation for solid growth, protected from political changes and policy changes."
"It will allow a sector as important as tourism, which affects 17 economic sectors, to continue to grow and maintain a level of growth that creates more, well-paid jobs, while giving small and mid-sized businesses an important opportunity," said Segarra, a former executive director of the Puerto Rico Tourism Co.
"A well-established DMO, equipped with the necessary resources, can be the spark that sets off all that growth," he said, adding that Meet Puerto Rico is available to work with the incoming administration on the project.
The DMO is a world-proven model that has worked in cities and countries that have established them, he said "so I hope this time, it is given the continuity and depth that it needs."
Clarisa Jiménez, president of the Puerto Rico Hotel and Tourism Association — the main proponent of the DMO in 2012 — said the draft legislation created under Fortuño has been updated to reflect industry changes.
"The changes are minimal. What's important here is that the DMO needs to be a completely independent entity with fiscal autonomy that is not under the umbrella of any government agency," Jiménez said. "But the bill includes significant government supervision."
The group expects to move the DMO project during the first 100 days of the Rosselló administration.
"We're happy and hopeful to be able to work on something we know will be very good for Puerto Rico," she said. "Every time a new administration comes in, it brings new ideas and changes that produce a terrible inconsistency that affects tourism horribly."
"Puerto Rico does not generate top-of-mind awareness in markets such as the northeastern United States, where the most money has been invested in marketing," Jiménez said. "You can't consider the money being spent on marketing the destination as an investment, because it's been wasted with all of the changes. There is no strong brand."
Rosselló said Puerto Rico has invested more than $1 billion over the past 15 years to promote the island, "but we don't have a globally recognized brand."