Roundtables being held on career barriers for women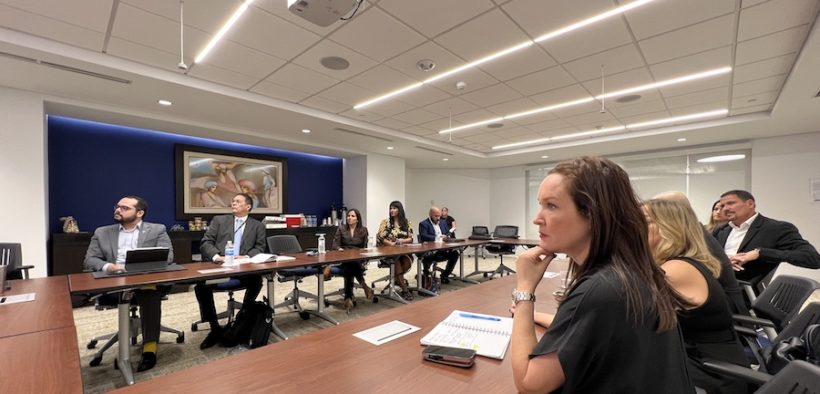 With the goal of providing company leaders with better tools to address issues that concern working women, the founder and CEO of Women Who Lead, Frances Ríos, Puerto Rico Labor Secretary Gabriel Maldonado and the director of the U.S. Equal Employment Opportunity Commission's San Juan Office, William Sánchez, kicked off the week with a series of roundtable discussions.
The meetings, which are being held in February and continue into March, will focus on issues such as harassment, equal pay, inclusion, growth opportunities and finances for women, Ríos said.
"The Working Women Survey that we conducted in November revealed the challenges that women in Puerto Rico face in their workplaces and what prevents them from developing," Ríos stressed. "We heard their voices. It is time to take action to achieve real changes."
She explained that for the training, an initial group of a dozen companies that have demonstrated a solid commitment to providing a better work environment for women were selected to have an in-depth discussion on the results of the survey, share tools and develop work plans.
The first meeting was held at American International Group's offices and was assisted by AIG Puerto Rico President Agnes Suárez; Puerto Rico Society of CPAs President Aixa González Reyes; Puerto Rico Chamber of Commerce President-elect Ramón Pérez Blanco; the Society for Human Resources Management Administration's director, Ana Iglesias Díaz; and Metropistas' human resources senior manager, Aida Gómez, among others.
"The training process is open to other companies that want to join the effort, we want to raise awareness and start steering … with the people who make decisions and can produce changes," Ríos added.
The next roundtables will be held at the different offices of BASF; Lopito, Ileana & Howie; Boston Scientific; ManpowerGroup Puerto Rico; Sartorius; Baxter; RSM Puerto Rico; Estrella LLC; Motorambar; and Serrallés. There will also be other meetings with public sector officials.
"For this administration it is extremely important to continue encouraging and promoting public policy initiatives that result in better working conditions for the thousands of women who represent 52% of our population but who are not equally represented in our workforce," Secretary Maldonado said. "That is why the Labor Department joined efforts with Women Who Lead to continue adding allies in this cause and highlight the importance of promoting initiatives aimed at diversity, equity and inclusion in the private sector and government, while complying with the various state and federal laws that prohibit discrimination and other unwanted practices in the workplace.
Furthermore, the commission's Sánchez noted that, according to the U.S. Department of Labor statistics, there is a wage gap between men and women.
"Out of every dollar, a woman earns 75 to 79 cents, a difference of 21 cents less than men," the agency director stressed. "In the 21st century, we need that gap to be closed. The commitment must come from companies, which recognize that women have much to contribute to the organization and compensate them adequately. The EEOC's responsibility is to ensure that women and men get paid similar wages under similar conditions. The agency is committed to educating employers and employees to assist them [providing] an equal work environment."
Meanwhile, Ríos explained that in the survey, which included 4,051 women participants, respondents answered questions about harassment, support from managers, and growth and development, among others. She noted that one of the most revealing issues was that most women lack an understanding of financial issues, thus making it challenging for them to face inflation and to prepare for retirement.
The entrepreneur said she will hold a series of in-person conferences at the Amadeus Bistro Bar in Hato Rey to help educate Puerto Rican women on finance related issues.
The first conference, "Love and Money: Protect Your Money Before, During and After a Relationship," will be held Feb. 15 from 5 p.m. to 6:30 p.m. The "Finance for Nonfinance" seminar will be held on Feb. 18 from 9 a.m. to noon. Given that it is tax season, "How to Legally Pay Less Taxes" will be held March 8 from 5 p.m. to 6:30 p.m. Finally, "The Glue Factor Bootcamp: Become an Influencer Leader," will take place April 13 from 9 a.m. to 4 p.m.
For more information on the conferences, visit LatinaNext.com and for information on other events and programs, visit WWhoLead.com.