Saborea weekend food fest to pump $1.8M into economy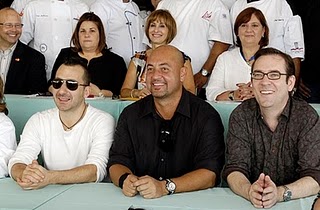 Iron Chef Marc Forgione, Chef Mario Pagán and Food Network host
Ted Allen.  (Credit: © Mauricio Pascual)
This weekend, the eyes of the culinary world will be on Puerto Rico, with the start of Saborea Puerto Rico: A culinary extravaganza! For the fourth edition of the event, 55 local and international chefs as well as 60 local restaurants will gather on the beachfront Punta del Escambrón, in San Juan, to enjoy a weekend of food, drink and cooking exhibits.
The event, for which title sponsor Puerto Rico Tourism Co. has flown in more than 30 members of the international press corps, seeks to project Puerto Rico as "a major gastronomic scene."
The weekend food and drink fest is expected to generate $1.8 million for the economy, including the 2,500 room nights booked at area hotels, Tourism Co. officials said during a morning news conference at El Escambrón. Some 7,000 people attended last year's fest.
Perhaps the biggest draw of the event is the presence of five culinary personalities from the Food Network, some who are coming back for seconds. The list includes Iron Chefs José Garcés and Marc Forgione, Ted Allen, host of "Chopped," along with chefs Anne Burrell, host of "Secrets of a Restaurant Chef," and Robert Irvine, host of "Restaurant Impossible," who were both present at last year's event.
"Undoubtedly, the visit by Food Network chefs, along with other major culinary talents, and the presence of the international media, will draw the attention of food lovers around the world to our island," said Clarisa Jiménez, president of the Puerto Rico Hotel and Tourism Association, or PRHTA. "For the first time, two Iron Chefs will come together on the same Puerto Rican stage."
Chefs Roberto Treviño and Robert Irvine.  (Credit: © Mauricio Pascual)
Teaming up with the Food Network personalities will be well-known local chefs, including Roberto Treviño and Mario Pagán, both who have also put their knife skills to the test to try to become the next Iron Chef.
Irvine, who was evidently pleased to be back judging from the smile on his face, said Puerto Rico's "passion for food, life and family" is like no other.
"There's nowhere on this planet that does it as well as Puerto Rico. Nowhere," said Irvine. "I have the opportunity to travel the world and do what I do and I met so many great friends last year that I've been in contact with, and when you come here as a visitor and get the love and support that we get as visitors to this fest, it is the most amazing thing."
"Puerto Rico has become one of the top destinations for food and wine and if you think of the Miami Food and Wine fest, Saborea Puerto Rico is right there [at the same level]," he said, confirming that he is still looking to open a local restaurant and has been in talks with potential local partners to get it done.
"We want to offer a menu of sustainable food, and hire local employees. When it opens, we're going to feed all of Puerto Rico on the first day," said the chef, alluding to a task that might match the 'impossible' challenges he has tackled on his shows.
For Pagán, the Saborea festival is an opportunity to showcase the island's culinary talents, while drawing business to restaurants that are represented at the event.
"I can tell you for example that last night I had Robert Irvine at my restaurant at the Caribe Hilton and there were so many tourists who were there and recognized him, that I'm sure it's already buzzing on Twitter and the social networks," said Pagán, who participated in last year's "Next Iron Chef" competition. "That's exactly what Puerto Rico needs in culinary terms, to let people out there know that we're here and that we have as many local celebrities in the kitchen here as there are on an international level."
Furthermore, he said the economic benefits following the event are also noticeable, as Saborea generates awareness among foodies of the variety of culinary creations that local restaurants have to offer.
"Usually, after this is over people visit our restaurants and often share their anecdotes of what they saw us doing at the event. Due to the recession, this event is great because it helps us to attract more clientele," said Pagán.
Saborea Founder Barbara Mari-Pennock and PRHTA President Clarisa
Jiménez. (Credit: © Mauricio Pascual)
Aside from a full agenda of culinary exhibitions at two demo kitchens, Saborea will also feature the Tasting Pavilion, will feature 30 different restaurants each day, wine cellars, distilled spirits, beers, agricultural and artisanal products. Starting at 1 p.m., the public can enjoy tasting everything as part of the price of admittance.
There will also be a Kid's Pavilion where the younger foodies, ages 5-17, will also have a full agenda of cooking classes and demos, games, crafts, and art classes.
There will be 1,500 parking spaces available for the event at the adjacent Paseo Caribe parking lot, as well as a trolley route that will pick up Saborea patrons at several hotels on Ashford Avenue, as well as the Convention Center district, said Bárbara Mari-Pennock, founder and executive director of the event. Furthemore, once at the event, there will be plenty of security, as event organizers has reinforced this concern with about 60 trained security staff.
The information and documents contained in "News is my Business" are property of this blog. You may not copy, distribute or use this information without the express written permission of this blog's creator, unless it is for personal or educational purposes. Fees for commercial or for-profit use apply.