Sazón Cocina Criolla to open 2nd location in Bayamón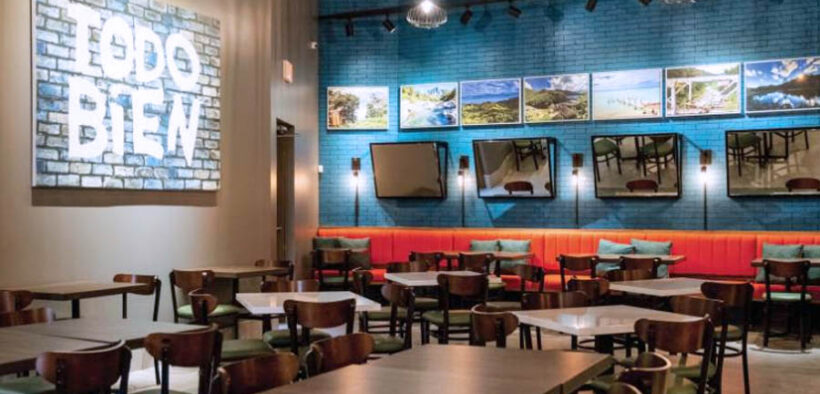 Sazón Cocina Criolla will be expanding its footprint to the Hotel Hyatt Place in Bayamón, where it will open an 8,320-square-foot restaurant following an investment of more than $500,000, company executives said.
Slated to open Oct. 23, the new location, with interior design by V Architecture, can accommodate 240 customers, said Javier González, operator of Sazón Cocina Criolla.
The company opened its first restaurant in 2021 at the Distrito T-Mobile entertainment complex in Miramar, offering a menu that emphasizes authentic Puerto Rican cuisine, featuring fresh fish and seafood flavors. Its menu includes daily specials and fixed main dishes, such as stuffed mofongo, "jíbara paella," various meat cuts, red snapper, conch, shrimp stew and Caribbean lobster.
"Thanks to the support of our customers since our opening, we've been able to expand Sazón Cocina Criolla now to Bayamón," González said.
"With this step, we want to take the essence of our first restaurant to a new level and continue delighting our guests with an explosion of the island's typical flavors, incorporating fresh herbs and local spices," he said.
"Likewise, as a Puerto Rican company that supports local talent, we have been able to generate more than 80 direct jobs, and we continue to seek more staff at our job fair," González added.
Sazón Cocina Criolla will hold a job fair on Oct. 10 from 10 a.m. to 6 p.m. at Hyatt Place's Meeting Place 2 room. Positions available include line cook, preparer, dishwasher, bartender, waiters, busboys, and host.
In-person applicants must bring a resume and photo identification. Managers will be available to conduct interviews and complete contracts. Individuals unable to attend the job fair can submit applications or resumes online.
"It fills us with great satisfaction that a Puerto Rican concept that was born in Distrito T-Mobile has been able to expand to another municipality. Sazón Cocina Criolla has always stood out for providing not only exceptional meals but also memorable moments between friends and family," González added.