CBP to fund small-scale port infrastructure projects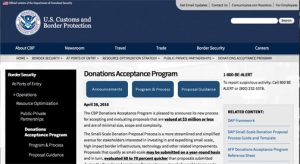 U.S. Customs and Border Protection announced Wednesday the "Small-Scale Donation Proposal Process," a more streamlined and simplified avenue for stakeholders interested in investing in and expediting small-scale, high impact border infrastructure, technology and other related improvements.
The "Small-Scale Donation Proposal Process" includes proposals that are valued at $3 million or less and are of minimal size, scope and complexity. The Donations Acceptance Program enables CBP, in collaboration with U.S. General Services Administration, to partner with private sector and government entities on U.S. port of entry to perform infrastructure and technology improvements.
"Ports of entry in Puerto Rico and the U.S. Virgin Islands qualify for this program, which is expected to support increased traffic flow and volume, and yield other transportation and security-related benefits," said Marcelino Borges, director of field operations for Puerto Rico and the USVI.
"We encourage local port operators and government entities to consider this program for port infrastructure and technology improvements," he said.
CBP and GSA may accept donations of real property, personal property including monetary donations, and non-personal services. Accepted donations may be used for U.S. port of entry construction, alteration, operations and maintenance purposes.
Proposals that qualify as small-scale may be submitted on a year-round basis and in turn, evaluated 60 percent to 70 percent quicker than proposals submitted during the "Donations Acceptance Program's" annual cycle for mid to large-scale proposals.
More information regarding the "Donations Acceptance Program," including the procedures and criteria that CBP and GSA use to evaluate proposals is also located on cbp.gov/dap.