Sea Star to pay $14.2M criminal fine in price fixing case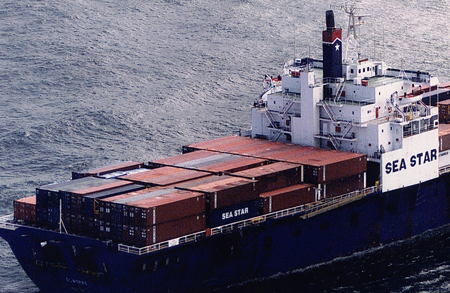 Jacksonville, Fl.-based Sea Star Line LLC will have to pay a $14.2 million fine upon reaching a plea agreement with the U.S. Department of Justice's Antitrust Division to settle a charge of violating federal antitrust laws with respect to Puerto Rico trade activity in a case dating to April 2008.
The plea, which is subject to the federal court's approval, stipulates that the DOJ will not bring criminal charges against Sea Star's parent entities, Saltchuk Resources Inc. and American Shipping Group Inc.
The agency did, however, file a criminal charge against its former president, Frank Peake, on a charge for participating in the conspiracy to fix prices in the transportation route to Puerto Rico from at least as early as late 2005, until at least April 2008, the DOJ said in a statement issued Thursday.
Sea Star Line and Peake are charged with price fixing in violation of the Sherman Act, which carries a maximum fine of $100 million for corporations, and a maximum penalty of 10 years in prison and a $1 million fine for individuals, the DOJ said.
"The proper resolution of this matter was important to us and we are pleased to have reached an agreement with the Department of Justice", said Anthony Chiarello, president of American Shipping Group Inc. and Manager of Sea Star. "The company remains committed to improving our operational excellence and looks to a brighter future serving our customers needs."
Chiarello further said, "We have also been attentive to the resolution of the civil litigation arising out of the DOJ investigation. Under antitrust law Sea Star is responsible for the acts of its employees, even though the criminal acts were committed in violation of company policies. That was the case here."
He acknowledged that Sea Star employees engaged in the price fixing scheme, and are no longer employed by the company.
"We extend sincere apologies to all of our loyal customers and the consumers who were affected by this conduct," he said. "It was contrary to everything that Sea Star stands for and will not be tolerated in the future."
Sea Star Line transports a variety of cargo shipments, such as heavy equipment, perishable food items, medicines and consumer goods, on scheduled ocean voyages between the continental United States and Puerto Rico.
According to the court documents, Sea Star Line, Peake and co-conspirators carried out the conspiracy by agreeing during meetings and communications to allocate customers of Puerto Rico freight services and to rig bids and fix the rates and surcharges to be charged to purchasers of water transportation of freight between the continental United States and Puerto Rico.
The department said that Sea Star Line, Peake and co-conspirators also engaged in meetings for the purpose of monitoring and enforcing adherence to the agreed-upon rates and sold Puerto Rico freight services at collusive and noncompetitive rates.
The investigation resulting in Sea Star's plea also involved other shippers, namely Horizon Lines Inc., Horizon Lines LLC, Sea Star Line LLC, Crowley Maritime Corporation and Crowley Liner Services Inc. Crowley and Horizon Lines, which in February 2011 agreed to pay a $45 million fine over five years to settle the charge, were said to be cooperating from the start of the probe.