Air Europa, Seaborne to codeshare on Madrid/DR flights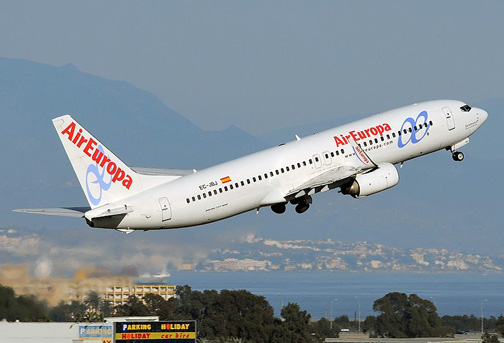 Spanish air carrier Air Europa announced Thursday the latest step in its expansion throughout the Caribbean with the connection of its daily flight between Spain and the Dominican Republic with Puerto Rico.
The Globalia Group Airline and Seaborne Airlines have reached a codeshare agreement to cover the Santo Domingo-San Juan route, which will allow for daily flights to and from the islands and, as a result, the connection of both capitals with the Adolfo Suarez Airport in Madrid-Barajas.
This will permit Air Europa passengers to fly to Puerto Rico every day, by making a short stop in Las Americas Airport in Santo Domingo. This route will be added to the two direct flights that Air Europa has been operating between Spain and Puerto Rico since June 2014.
"This agreement represents a step forward in our mission to be the go-to airline in flying to and from Europe, America and the Caribbean," said Air Europa President, Juan Jose Hidalgo. "And I'm sure that with Seaborne we have found a great partner, due to their impeccable trajectory and incredible punctuality index of more than 98 percent."
For the Santo Domingo–San Juan route, Seaborne has an available fleet of eight Saab 340B, Swedish-made aircraft that can carry 34 passengers.
"Seaborne is honored to be selected by Air Europa to provide this service," said Seaborne President Gary Foss.
"It is a vote of confidence in our team of outstanding professionals that has brought service to 16 airports across the Caribbean. We want to especially thank the Tourism Company of Puerto Rico for their steadfast support of Seaborne," he said.
The codeshare agreement between Air Europa and Seaborne will take effect March 29.
For her part, Puerto Rico Tourism Company Executive Director Ingrid Rivera-Rocafort said "efforts to continue positioning Puerto Rico as the main axis of Caribbean air access and increase flight options for our visitors continue to bear fruit."
"The alliance between airlines Air Europa and Seaborne, respectively leaders in Europe and the Caribbean, not only open new markets for Puerto Rico, but they are also an integral part of our campaign to promote the island as a five-star destination and simplify the travel planning process for potential travelers to Puerto Rico," she said.