AT&T slashes rates for individuals, 2-line accounts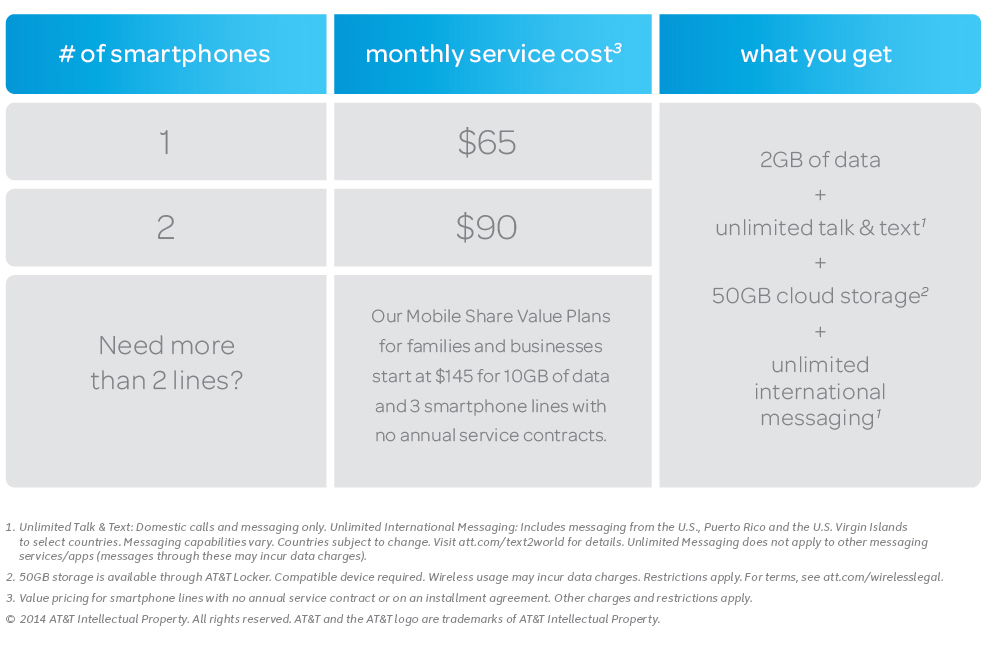 Last month, AT&T announced aggressive pricing plans for families and small businesses, as well as international offers. And on Sunday, the carrier extended savings to customers with one and two lines with the introduction of a new lower priced 2GB "Mobile Share Value" plan starting at $65 a month, which is $15 off the current 2GB plan for one smartphone with no annual service contract.
New and existing AT&T consumer and business customers are expected to see value in this plan, which includes domestic unlimited talk and text, as well as unlimited international messaging from the U.S. to select countries. AT&T customers with a compatible device may also sign up for 50GB of cloud storage at no additional charge, the carrier said.
AT&T recently added unlimited international messaging to all of its "Mobile Share Value" plans for no additional cost. Unlimited international messaging includes messages sent from the U.S., Puerto Rico and U.S. Virgin Islands to more than 190 countries for text messages and 120 countries for picture & video messages.
"We're continuing the trend of offering more value to our new and existing customers. Not only are families and small businesses able to save more on their monthly data plans, we're now delivering that same great value to individual customers on the nation's most reliable 4G LTE network," said David Christopher, chief marketing officer, AT&T Mobility.
With 50GB of cloud storage from AT&T Locker, customers can keep more than 30,000 pictures safe and secure in the network and access them across multiple connected devices.