Smartphone-addicted moms face child-rearing issues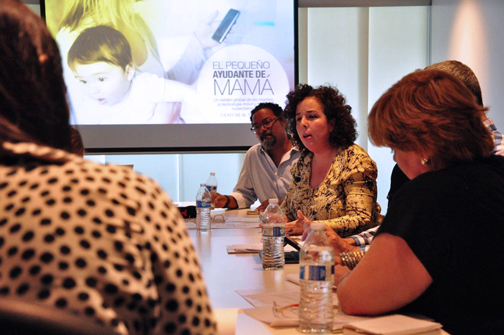 The mobile phone has become an indispensable tool that today's mothers use to stay connected to the world. But as addiction to this device increases, so do the challenges that arise in their raising of children.
So reveals a study presented Tuesday by the agency Badillo Saatchi & Saatchi, which took part in the research conducted by the multinational advertising agency in 10 countries.
The global study was undertaken to identify the concerns, thoughts and feelings that mothers have in regards to their relationship with their mobile phones. The research procured the services of 30 "Master Xplorers" from Saatchi & Saatchi who engaged with over 50 mothers in 10 countries.
The study included mothers from Argentina, Australia, Canada, China, Colombia, Germany, Great Britain, the United States mainland (New York and California), and Puerto Rico. The tool that Saatchi & Saatchi calls Xploring consists of a qualitative study that digs deep into the why of things, as well as closely examining the elements that drive certain behaviors.
Grace Rodríguez, strategic planner for Badillo in Puerto Rico Saatchi & Saatchi, who engaged with a group of Puerto Rican mothers, said: "The study was based on what we call Xploring, a technique that goes beyond knowledge to gain understanding."
"It seeks to break down stereotypes and leave conventional wisdom aside so as to enable us to open up and get a sense of the lives of the people: their habits, passions and desires. It is a way to establish an intimate contact to achieve a deeper understanding of the things that matter most to them," she said.
Rodríguez added that "Mobile devices increasingly affect human relationships, and because mothers are the axis of society, whose traditional role is of the greatest influence in regards to the rearing of children, they are setting the a foundations in a world that has not yet written the rules on how to manage the challenges that this device presents to them."
Mobile phone dependency 'new sibling rivalry'
Even though mobile phones make their lives easier, Rodríguez said "dependency on the cellphone has become a new type of sibling rivalry in which the mother is there, physically, but when she uses the device, it's as if she were absent. Similarly, the cellphone and other mobile devices, like tablets, compete with the mother and becomes a pacifier of sorts."
There exists among all of the participants worldwide in the study, a sense of "an addiction" for both mother and their children. Everything in their lives revolves around the mobile phone. They are setting limits for themselves in an effort to curb the "addiction" because the device is a resource, a useful tool, but one that does not define her as a mother, woman or person.
In regards to evidence that supports the reality of mobile phone access, Claudio Chea, director of Badillo's digital division, said "In Puerto Rico, the incidence of internet use on the mobile phone is growing."
It is believed that on the island 2.7 million people have mobile phones; 7 out of 10 of these have a smartphone. According to Chea, "87 percent of people who have a mobile phone are women, almost 2.0 percent more than men," according to the 2016 SME Digital and Mobile Behavioral Study.
The Badillo study is an X-ray that furthers understanding on how to reach this promising market, agency executives said.
"Brands need to gain a deeper understanding of the challenges that today's mothers face when it comes to mobile phone use and how this affects child rearing," said Rodríguez.
To connect with today's mothers, brands need to leave traditional views behind and understand the profoundness of the relationship between mothers and their mobile devices, so as to begin exploring new territory and ways to connect with them in a more relevant manner, Chea said.
Results obtained in Puerto Rico mimic those found in China, Germany, Argentina and the other countries, where the relationship between mothers and their mobile phones is similar and they have the same concerns, executives said.
"We can say that the mobile phone is vital in their lives to help them in their role as mothers and keep them connected to the outside world, their jobs or entertainment interests. For today's women, their interests go beyond their responsibility of being mothers. Motherhood is an important role in their lives but not one that defines them. They are beings with interests that are independent from motherhood," Rodríguez said.
The study confirms that the mobile phone helps mothers establish a network with the world, including coordinating appointments and activities, accessing information, making inquiries, shopping, and engaging in entertainment activities such as watching movies.