AT&T, Softbox, Merck test drones to deliver medical supplies in P.R.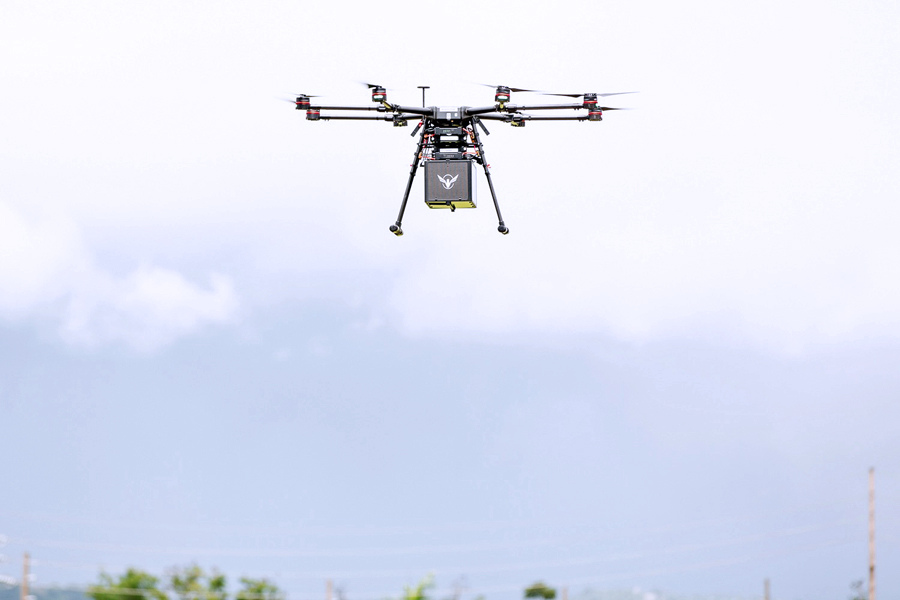 Direct Relief, Merck, AT&T, Softbox and Volans-i are testing drone flights and the coordinated processes needed to provide medical supplies by drone in a temperature-controlled environment with real-time monitoring.
The long-distance deliveries must comply with U.S. and Puerto Rico laws and regulations for prescription drug delivery, including a documented chain of custody; Federal Aviation Administration approval for flight plans; and, for some products, must be consistently refrigerated to ensure the integrity and effectiveness of the medicines, the companies stated.
The drones are designed to carry the types of medications people often lose access to in disasters, which can lead to health crises or death.
The technology of the smart boxes allows for temperature-control when delivering products such as some of Merck's vaccines. The non-refrigerated cargo can carry medications for asthma and hypertension for instance, the companies added.
Researchers estimate that most deaths from Hurricane María in September 2017, were caused by loss of access to medicines and health care, not by wind or water.
"As people were displaced from their homes, health centers lost power for weeks, and travel was extremely difficult. This likely contributed to an increase in deaths from chronic diseases that can be managed under normal conditions," the companies said in a joint statement.
The tests conducted last week used drones flying in challenging terrain in remote areas impacted during María, beyond the line of sight. The drone deliveries extend to remote mountain villages that were cut off from electricity and road access for months after Hurricane María, some of them for a time accessible only by helicopter.
"Post-Hurricane María, Puerto Rico has become a hotbed of innovation in disaster relief and healthcare resiliency," said Andrew Schroeder, director of research and analysis at California-based Direct Relief.
"In emergency response, we need to quickly get medicine to remote locations that may be otherwise reachable only by helicopter," he said.
"As drone technology and systems for managing them improve, we expect them to save lives in places where disasters have cut off access to critically needed healthcare," Schroeder added.
In upcoming tests, drones will fly over sea to deliver medicines and vaccines.
In this pilot program, each organization has brought something unique to the table to innovate the way medicines are delivered to people who need them:
"Merck is pleased to collaborate on this innovative new model for delivering medicines to patients in areas affected by natural disasters," said Brenda Colatrella, executive director, Corporate Responsibility at Merck.
"We're proud of our long history of expanding access to our medicines and vaccines, and of working with our partners to provide humanitarian assistance. The successful test flights give us hope that we will be able to provide a reliable supply of our medicines for disaster relief," she said.
"Softbox is proud to be working with Direct Relief, Merck and AT&T on this ground-breaking, innovative project," said Richard Wood, technical director at Softbox. "We understand the importance of delivering life-saving medications safely and at the right temperature, especially in situations such as humanitarian disasters."
"We have developed, in collaboration with AT&T, a brand new type of IoT enabled temperature control packaging system, Skypod, which has been designed specifically for Drone/UAV delivery systems and to perform in the most extreme conditions, until the medication is delivered to the patient," he added.
"Skypod can be tracked in near real-time using SMARTBOX, powered by AT&T's IoT, providing real-time data for temperature, GPS location and security, ensuring the protection of the medicines through the most challenging of Final Mile scenarios," Wood said.
AT&T's IoT technology tracks the Skypod with data viewed on a web and mobile app dashboard. The data includes near-real time external and internal temperatures of the box and its location. Light exposure data helps signal if there is box tampering during daylight, by determining if the box is open or closed.
The dashboard app will flash alerts to help drive appropriate action. For example, it will send an alert if there is a change to the temperature range of 2°C to 8°C. It will also send an alert if the drone goes outside of defined geofencing parameters.
"Disaster is still fresh in the minds of the people of Puerto Rico. Devastated by one of the worst hurricane seasons on record last year, the island is still in recovery mode," said Jose Juan Dávila, vice president of AT&T Puerto Rico & USVI.
"We participated in a drone trial in Puerto Rico to show it's possible to use drones to deliver temperature-sensitive medicines in places with difficult to reach terrains," he said.
"Our IoT technology tracks the Skypod with reporting data accessible through a dashboard. This could be a game-changer when time is of the essence to deliver vital medicines following a natural disaster or humanitarian crisis," Dávila added.