Sotomayor to speak at 2nd edition of Animus summit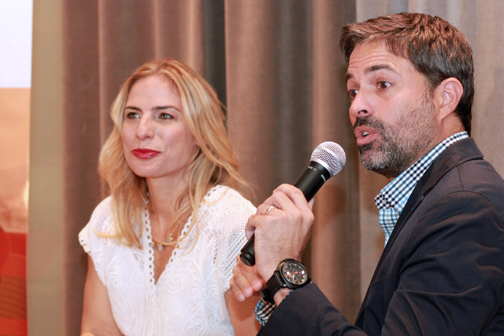 Associate U.S. Supreme Court Justice Sonia Sotomayor will be among the speakers invited to the second edition of the Animus summit, an innovation platform designed to "maximize women's economic and personal development around business, mindfulness, empowerment, and entrepreneurship," slated to take place Sept. 30 at the Caribe Hilton Hotel.
The first summit drew more than 600 attendees, prompting entrepreneurs Lucienne Gigante and Carlos Cobián to come together again for the even that aims to "inspire, educate and encourage women to take action as entrepreneurs and reach their highest level of personal and professional growth," organizers said Tuesday.
This year the organizers focused on inviting a group of powerful and influential women that have broken the glass ceiling and hold positions of power in male dominated industries. One of them is Sotomayor, who is of Puerto Rican roots.
The founders believe that investing in women is a way to boost the economic development of any country, especially in the Americas.
Citing the American Express OPEN's 2014 State of Women-Owned Businesses Report, the duo said it is estimated that there are nearly 9.1 million women-owned businesses in the United States, generating more than $1.4 trillion in revenues and employing nearly 7.9 million people.
Of those, as of 2016, there are just under 1.9 million Latina-owned firms, employing 550,400 workers and generating $97 billion in revenues. Between 2007 and 2016, the number of Latina-owned firms increased by 137 percent — the highest increase seen among minority women-owned firms.
"Investing in women is a key driver to boost the economic development of any country," said Gigante.
"Providing resources, solutions and opportunities is critical to stimulate innovation," she added, noting that Animus is for every woman or man who wants to make a difference, learn, grow, build alliances, and challenge existing paradigms.
Minorities and women not only represent the fastest growing segment of consumers but also of entrepreneurs in the United States. Latina-owned firms comprise 46 percent of all Latino-owned firms, according to The 2016 State Of Women-Owned Business Report. Animus will provide information, ideas, perspective and strategies to develop or hone an entrepreneurial mindset.
"You are not aware of your options without knowledge. This is why the purpose of Animus is to empower our society with the right tools to inspire talented people to become entrepreneurs, striving to reach their true potential," said Cobián.
Animus is structured to be a dynamic event featuring various formats — from five minute-talks, 10-minute storytelling sessions, to keynotes, and panels. Animus will also feature a startup showcase where five entrepreneurs will pitch their business.
Sotomayor will be joined in the speaker roster by: Eliana Murillo, head of multicultural marketing at Google Inc.; Frances Colón, deputy science and technology adviser to the Secretary of State at the U.S. Department of State; Katina Rojas-Joy, senior director, specialty sales (military) and policy research for Respira Medical and former deputy director of the U.S. Department of Commerce; María Cristina González-Noguera, senior vice president, global public affairs and government relations at The Estée Lauder Companies and former assistant to President Barack Obama and director of communications to First Lady Michelle Obama; Maite Oronóz-Rodríguez, chief Justice of the Puerto Rico Supreme Court; Teruca Rullán, senior vice president of Corporate Communications, Popular Inc.; Giselle Blondet, entrepreneur, actress and TV host; Ana María Vihon, features feporter, WGN Morning News; Alessandra Bradley-Burns, chief strategic officer, DEILAB; Jovanka Ciares, creator of the Wellness Smackdown; and, Nathalie Molina-Nino, CEO Self Made.