Nova Southeastern Univ. opens campus in Puerto Rico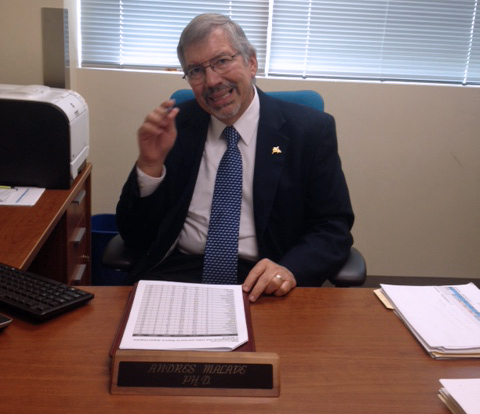 Nearly two decades after first inserting itself into Puerto Rico's pharmacy education setting through partnerships with local colleges, Nova Southeastern University will open the doors this month to its own stand-alone campus to further its mission of preparing professionals.
In an interview with this media outlet, Andrés Malavé, executive director in charge of Nova Southeastern University's San Juan operations, said establishing its own presence in Puerto Rico responds to its commitment "to several dimensions of its single-shared vision, including academic excellence, scholarship, research, innovation, high quality distance education, and community engagement."
The new Nova Southeastern University campus comprises a four-story, 37,000 square-foot facility that will house 350 students, faculty and staff. Leasing and outfitting the building entailed a $7 million investment, which is factored into $27 million the university figures its economic impact in Puerto Rico will be over five years.
"We're in Puerto Rico to address those areas that are in need of education. We want to make sure that all of the programs that we offer here are areas that are not covered by other institutions, or if they are, that they are provided on a small scale," he said.
Programs to be offered at NSU's Regional Campus in San Juan include Master's and Doctoral degrees in education— including an exceptional student curriculum for which Nova is recognized in southern Florida through its work with autistic children — and its long-running pharmacy program.
Nova Southeastern University is a nonprofit institution of higher learning well known for innovation and quality in both traditional and distance education. It entered Puerto Rico in 1995 in response to changes in pharmaceutical requirements and through an agreement with the University of Puerto Rico's teaching hospital.
At the time, NSU was asked to develop a certificate program for its pharmacists, which was offered during weekends to help participants learn about medication therapy management of chronic diseases such as diabetes, among others.
In subsequent years, NSU expanded it's offering to include doctoral degrees, as well as its reach through agreements with other colleges: the National University College in Bayamón; the Universidad del Este in Carolina; and the Pontifical Catholic University in Ponce.
Despite an increased enrollment in its pharmacy programs, Malavé said there is still a significant shortage of those types of professionals in Puerto Rico. Citing Pharmacy Association figures, Malavé said there are about 3,000 registered pharmacists in Puerto Rico, not all of which practice.
The need, he said is for between 5,000 and 6,000 pharmacists, including so-called community pharmacists who, in certain low-income and remote neighborhoods, effectively become the first contact for a sick patient.
"The shortage is very real and it has been real for years. That in part had to do with a limited number of seats available at pharmacy schools. Also, when you look at this profession years ago, it was merely about dispensing pills. But today, pharmacists have an educational and clinical role," Malavé noted. "The number of prescriptions and drugs has skyrocketed, so the demand for professional help has increased incredibly."
Through Nova Southeastern University's educational model, students enrolled in the pharmacy curriculum must spend time doing their clinical practice in Florida — where the college is headquartered — "so they can return with new ideas and strategies they can implement on the island," he said.
"Our data shows that our students are coming back," he said, adding that since 1995, Nova Southeastern University has graduated an average of 40 students through its different programs.
The new campus will be officially inaugurated Aug. 28.