S&P raises island's credit outlook for 1st time in nearly 3 decades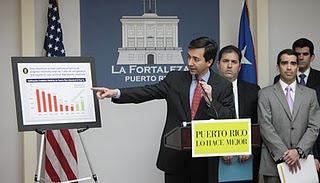 Gov. Fortuño discusses S&P's credit rating change at La Fortaleza.
In less than two months, Gov. Luis Fortuño's administration has received positive news from three stateside credit agencies monitoring the island's fiscal and economic health.
On Monday, Standard & Poor's
raised the island's credit rating for the first time in 28 years,
upgrading $9.2 billion of Puerto Rico's general obligation bonds to BBB from BBB-minus, due to stronger revenue performance. The agency said the outlook is stable.
"In our opinion, Puerto Rico continues to face major fiscal and economic challenges. However, in the two years since [taking office], the Fortuño administration has made fiscal stability a priority," the S&P report said.
"The fiscal measures taken by the Fortuño administration represent, in our opinion, a factor that gives stability to Puerto Rico's short-term credit and which may well generate the results that are projected for fiscal year 2013 if the economy stabilizes and budgetary discipline is maintained," the credit agency said.
S&P's decision to raise the island's credit rating occurred late last week, after Fortuño and members of his economic team — including outgoing Government Development Bank President Carlos García — held a conference call to discuss results of the administration's fiscal initiatives thus far.
In its report, S&P factored in three key issues into its classification change: the close relationship of the island's economy with the economy the rest of the United States; the GDB's support which, "in our view provides a stabilizing financial and managerial influence;" and "the commitment of this administration to restore fiscal balance and economic growth and the progress achieved so far, which has necessitated the adoption and implementation of what we consider difficult and sometimes politically unpopular measures.
"The upgrade is based on our view of the commonwealth's recent revenue performance and continued efforts to achieve fiscal and budgetary balance," S&P analyst Horacio Aldrete-Sánchez said in the report.
"We believe that the collections from the recently enacted excise tax, which have exceeded the government's expectations, will provide the commonwealth with additional flexibility to continue to narrow the budget gap and achieve structurally balanced budgets in the next two years," Aldrete-Sánchez said.
S&P's accolade to the Fortuño administration coincided with Business Monitor International's decision to improve its economic outlook for Puerto Rico and comes less than two months after
New York-based Fitch Ratings's mid-January decision to assign a "BBB+" rating to same $9.2 billion GO bonds, also saying the outlook was stable.
"These are independent firms of expert financial analysts. They have nothing to do with each other and do not respond to the Government of Puerto Rico," Fortuño said Monday. "And all three have said essentially the same: Puerto Rico has made tremendous progress, has righted its finances, has a concrete and reliable plan to travel the road ahead, and deserves credit for the improvement made in the way we are conducting our finances and economics."
See related story: http://bit.ly/haYefT