St. Regis Bahía Beach Resort art exhibit raises funds for environmental advocacy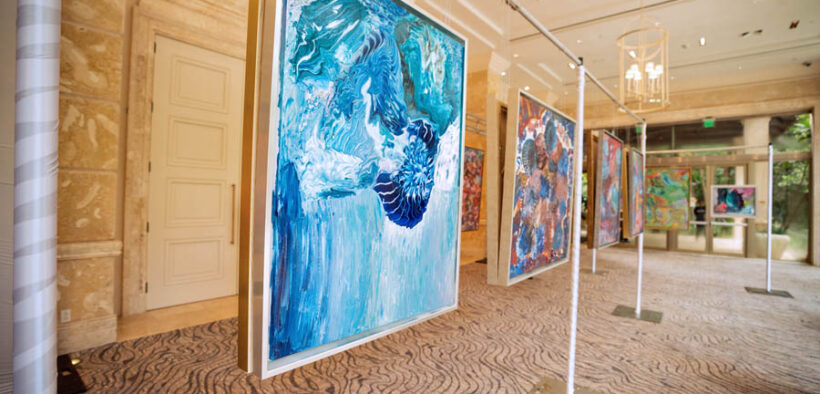 The French oral surgeon, health coach, writer and artist Sophie Lelouch unveiled her latest artwork collection at an exhibition on Oct. 22 at the St. Regis Bahía Beach Resort.
Her pieces, crafted with her distinctive passion and vibrant colors, found buyers, with the event raising proceeds for the Alma de Bahía Foundation, a nonprofit associated with the resort that works to protect natural resources and wildlife.
"We're tremendously grateful for Sophie's decision to donate the proceeds from her art auction to Alma de Bahía Foundation. Residents like Sophie truly embody the spirit of the St. Regis Bahía Beach Resort, a community deeply entrenched in creating a lasting, positive impact on Puerto Rico," said Geraldine Farrulla, director of sales and marketing at the resort.
The Alma de Bahía Foundation, for more than a decade, has championed the protection of natural resources and wildlife and advanced sustainability in Puerto Rico. Working with the resort, the foundation has led significant multisectoral initiatives and citizen participation.
"This initiative goes far beyond the funds raised; it represents a commitment to a shared vision of a sustainable Puerto Rico," said Marcela Cañon, executive director of Alma de Bahía. "Initiatives like these not only boost our ongoing projects but also reinforce the critical message of conservation, education and community collaboration."
The resort and its residents reiterate their promise to protect Puerto Rico's natural and cultural treasures through events like these.
"For me, art is an expression of my journey toward holistic health and well-being. I'm thrilled that through my art, I can support the commendable efforts of the Alma de Bahía Foundation in nurturing the environment and uplifting the local communities," Lelouch said.
From beach clean-ups removing tons of waste to educating young people about environmental stewardship, the foundation's work has been key in promoting conservation and community engagement across the island.