State-of-the-art PRCCI Clinical Research Center inaugurated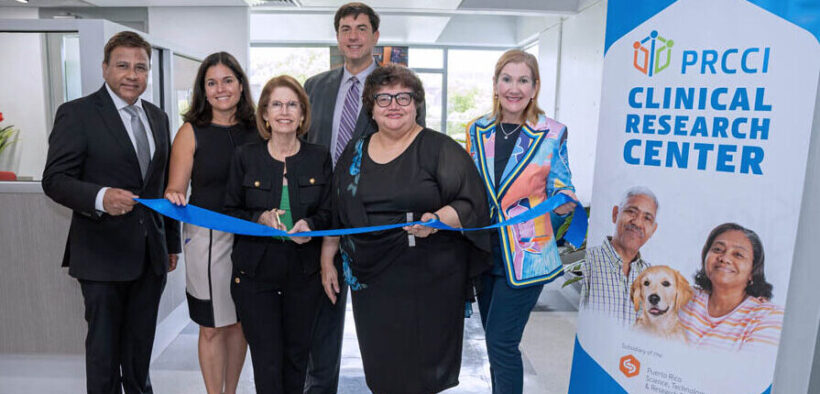 SPONSORED POST
The Puerto Rico Consortium for Clinical Investigation (PRCCI) inaugurated on Aug. 17 a modern clinical research center that will complement the Puerto Rico clinical research ecosystem and the centers that are part of the consortium network.
The new center seeks to position Puerto Rico as a market of excellence not only for pharmaceutical companies, biotechnology companies but also for clinical research organizations in the United States and globally, so that they can carry out their clinical research on the island.
The announcement was made by Eng. Luz E. Crespo, chief executive officer of the Puerto Rico Science, Technology and Research Trust (Trust), Dr. Amarilys Silva-Boschetti, BSPharm, RPh, executive director of PRCCI and Dr. Kenneth S. Ramos, MD, PhD, chair of the PRCCI Board of Directors.
During the inauguration, the organization shared the results of an economic study, commissioned by the Trust and PRCCI, and conducted by Dr. Mario Marazzi, PhD, an economist who until recently worked as a research consultant, which demonstrates the strength of this sector.
According to Dr. Marazzi's report, the clinical trial market generated $27.5 million in fiscal year 2020-21 in direct costs and when adding indirect expenses, totalized about $50 million annually in economic activity for Puerto Rico.
Additionally, the PRCCI Clinical Research Center will have a training and innovation program for Clinical Coordinators and will offer certifications for other healthcare professionals.
"This new facility is available to conduct clinical studies of new treatments and medical devices and is available to clinical research professionals, independent investigators, sponsors such as pharmaceutical companies, biotechnology companies and clinical research organizations," said Dr. Silva-Boschetti, executive director of PRCCI.
For her part, Eng. Luz E. Crespo, CEO of the Puerto Rico Science, Technology and Research Trust, expressed her confidence in the growth potential of the clinical research sector and highlighted the critical role of the Trust's science and innovation development program to expand the Puerto Rico market and the international market.
"PRCCI has done consistent work, contributing to the positioning of PR as an experienced destination to conduct research, generating interest in this field by professionals, students and strengthening ties between private companies, academia and patient groups," she said.
PRCCI's new 2,600-square-foot clinical research center will generate between 15 and 20 jobs in clinical research roles.
Additional information: contact@prcci.org.