Stateside media outlet zeroes in on 4% corporate tax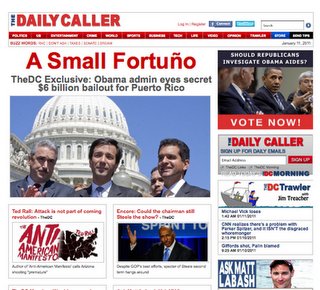 Washington D.C.-based The Daily Caller on Tuesday zeroed in on the recently passed 4 percent tax on foreign corporations, saying it is has the makings of an "indirect bailout," as Fortuño administration officials seek to have the IRS allow affected companies to write off the new collective $6 billion business expense as a tax credit.
The article titled "A Small Fortuño," which was the media outlet's top story of the day, pointed out that the tax approved through Law 154 amending Puerto Rico's Internal Revenue Code — coupled with the Fortuño administration's request for a credit — is an "unusual use of portions of the tax code intended to avoid double taxation on U.S. firms in countries that have reciprocity treaties with the U.S."
During the last weekend of October, the Legislature passed Law 154, which Fortuño quickly signed without giving the affected sector — mostly local pharmaceutical companies — an opportunity to express themselves. Essentially, Law 154 gave way to the imposition of a 4 percent excise tax over the sales between offshore companies and their subsidiaries on the island, starting this month. The expectation is to collect $6 billion in six years.
Upon approving the law, local administration officials turned to the IRS with a request to allow the tax to be taken as a credit. The IRS has yet to make a decision on the matter.