Study confirms Boys & Girls Clubs' strong economic, social impact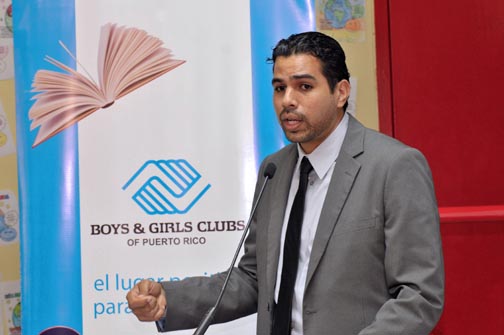 For each dollar invested in young participants of Boys & Girls Clubs of Puerto Rico's programs, the island receives $2.86 in economic benefits, or a 186 percent return on investment, the nonprofit organization revealed recently after completing its first Social and Economic Impact Study for Puerto Rico.
During a news conference at the Boys & Girls Clubs of Puerto Rico's Luis Llorens Torres club in San Juan late last week, the organization said the investment is a lot more cost effective for Puerto Rico's economy considering how much it costs taxpayers to rehabilitate a juvenile delinquent, provide care for a pregnant teenager, and recover the investment lost when a student drops out of school.
"Even though the social contribution the clubs make through their prevention, education and recreation programs is acknowledged and appreciated, this is the first time that the organization commissions a study that comprises an economic analysis and quantifies the organization's impact in Puerto Rican society," said Boys and Girls Club President Eduardo Carrera, referring to the study prepared by consulting firm Estudios Técnicos.
While 87 percent of the nonprofit programs' participants graduate from high school and 84 percent of them take on undergraduate studies, he said. Although they live in high-risk environments, only 1.5 out of 100 teens participating in the Boys and Girls Club programs get pregnant. This contrasts with the island's average of three out of 100.
Pervasive impact
The study's methodology was similar to the one used by the Boys & Girls Clubs of Los Angeles, which focused on five components or influence areas of the organization's mission on the island: employment impact, education impact (measured by the number of high school graduates), reduction in the number of teenage pregnancies, lower juvenile delinquency rates and the strengthening of the organization's volunteer force.
The data was compiled for three key groups — participating youths, parents and volunteering professionals— in quantitative and qualitative analysis. The report showed that the club's work benefits four main groups: 1) members, 2) their families, 3) their immediate communities and 4) the island.
"Our development plan is as ambitious as our vision and this report confirms that we are headed down the right path. This document is irrefutable proof for our sponsors that their money has been well spent and that we are meeting all of our goals: to offer hope and opportunities to children and young people so they can reach their full potential, empower our participants to reach their life goals and have a positive impact in the country's quality of life and social situation," said Carrera.
The Boys and Girls Club, which opened in Puerto Rico in 1967, currently generates 300 direct and indirect jobs and $3.3 million annually in overall economic impact. More than 50,000 youths have benefited from its afterschool programs, with offerings that range from leadership, education, health and life skills, recreation and sports and arts.
The impact is coupled with an additional $14.6 million in added value, broken down into $2 million in volunteer time, $3.35 million in the Pregnancy Prevention program, more than $854,000 in low crime incidence, and the $5.1 million income that high school graduates generate thanks to the organization's efforts to curb drop outs.