Sunnova marks 10 years in Puerto Rico with aggressive expansion plans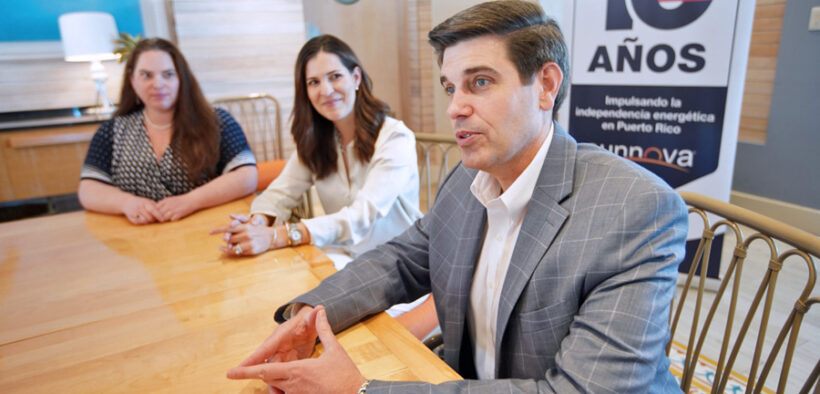 Sunnova Energy International Inc., an energy-as-a-service provider in Puerto Rico, is marking its 10th anniversary on the island with aggressive expansion plans that include leveraging up to $1 billion in federal incentives for the installation of solar and battery storage systems through its local dealer network.
During a visit to the island, Sunnova CEO John Berger confirmed that part of that plan is included in its Project Hestia initiative, for which it will be working with the U.S. Department of Energy's loan programs office to provide guaranteed loans for clean energy systems to some 75,000 to 115,000 homeowners throughout the United States, including its territories.
"We anticipate Project Hestia will be a game changer that will further fuel the growth of the residential solar energy market on the island," he said. "We stand ready to provide increased access to clean distributed generation and virtual power plants to strengthen Puerto Rico's power system, improve energy security, and ensure that homeowners across the island benefit from the clean energy transition," Berger added.
The final documentation for the agreement announced last week, which Berger described as a public-private partnership, could be squared away this quarter, after which Sunnova's dealers in Puerto Rico can begin signing up customers.
In Puerto Rico, Sunnova already has about 51,000 homes connected to solar power, with an expectation of quadrupling that number, he said.
"Puerto Rico has a total of about 600,000 single-family homes, so we have a lot of work left," he said during a meeting with reporters. "We would love to see between $700 million and $1 billion of the money allocated for the program to go to Puerto Rico."
Project Hestia is expected to prioritize a focus on households in disadvantaged communities, as well as homeowners with lower credit ratings. This could translate into reaching rural communities across Puerto Rico, as well as middle-class families, Berger said.
"We're enormously proud of, and thankful for, the opportunity we've had in helping provide energy independence to thousands of Puerto Rican homeowners. When we first arrived on the island in 2013, there were very few Puerto Rican homes with solar," he said.
"Today, thanks to the hard work of our team and our trusted network of exclusive dealers — Windmar Energy, Power Solar, ISO Group, Pura Energía and Melpro — Sunnova has more than 51,000 customers in Puerto Rico, making solar and battery storage service offerings available to nearly 70% of the residential solar customers on the island," he said, adding that the five dealers generate a total of 3,500 jobs.
"That's significant growth by any standard and it has helped solidify Puerto Rico as our third largest market in the entire U.S., after California and New Jersey," the CEO said.
In the months ahead, Berger said the company will focus on continuing to raise the customer service bar in all the markets it serves, including Puerto Rico.
"Starting in Puerto Rico, if there is an issue with your solar and battery storage system, we will get the power flowing again in 24 hours in most cases," Berger assured.
Sunnova has 100 direct employees in Puerto Rico, including 45 who are being hired for a recently established customer service call center, which specifically caters to Puerto Rican customers.
"Puerto Rico is our flagship for a whole new level of customer service among all the markets we serve," Berger said.
Looking ahead, the executive was enthusiastic about how current trends are transforming the energy landscape.
"The way of the future will be led by savvier energy consumers demanding industry-leading technology and world-class service in support of solar and battery storage offerings that provide energy independence. And that's exactly what Sunnova stands ready to continue to provide to Puerto Rico," Berger said.