Tourist taxis support centralized public transportation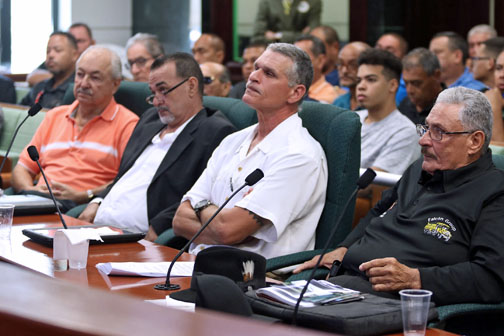 Members of the Puerto Rico Tourist Taxis Association on Monday expressed their support of House Bill 1084, which proposes adopting a law to centralize oversight and regulation of public transportation at the Public Service Commission.
During a hearing by the House Government Commission, chaired by Rep. Jorge Navarro, industry leaders said the PSC is the agency with the experience and expertise for the authorization, supervision and regulation of public transportation.
However, they also said the Tourism Company should keep its jurisdiction over tourist taxis, limousines and sightseeing tours, to ensure investment and service excellence the agency has offered the industry in recent years.
Gilbert Anthony Linares head of Travel Services Inc./Destination Puerto Rico, a company with 60 years of experience in the travel and tourism market on the island, said he understood the need to consolidate agencies and responsibilities at the PSC.
"We do not oppose the bill as such. We're only obliged to safeguard what has historically been part of our offer, which is tourism," he said.
He recommended that the Tourism Company keep jurisdiction over the tourist transportation and not pass it over to the PSC, because as part of the services his company offers is a large fleet of vehicles with sightseeing tour permits established for years through the Tourism Company.
When Navarro-Suárez asked the group as to whether they agree to allow UBER to offer transportation services at the airport or tourist areas, industry representatives reiterated their opposition.
They argued that tourist carriers have to comply with too many requirements, regulations and laws to operate locally, with years of experience, while UBER does not. Finally, they recommended conducting a feasibility study on that issue, which has generated controversy and violence between UBER and taxi drivers — often in front of tourists.
At the hearing, Puerto Rico carriers also expressed their views on the bill.
Dan López, president of the Teamsters Confederation of the North, advocated for the bill include to more benefits for members of this sector. He asked the Commission to take action on the matter and intercede with the PSC to discuss the matter and add amendments, which the organization vowed to submit.
Meanwhile, the President of Independent Truckers, Carlos Schettini, said action is needed considering that truckers are operating with rates dating to the 1970s and 1980s. He also asked that complaints against corporations or companies that give service are kept anonymous, because the complainant risks losing their contracts when the PSC reveals their names.