T-Mobile Puerto Rico expands, launches campaign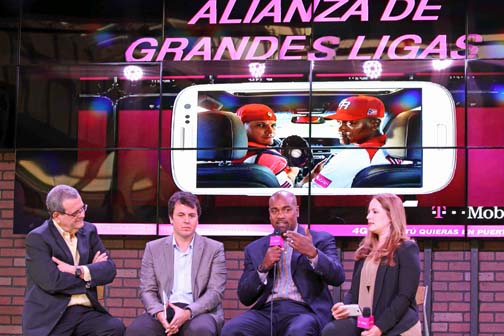 Wireless provider T-Mobile Puerto Rico is moving forward with its local expansion, adding new stores and infrastructure to continue enhancing customer service and signal capacity, Jorge Martel, company general manager said during a news conference Thursday.
A trio of new stores in Caguas, San Germán and Trujillo Alto, has been added to its footprint since January, creating 25 new jobs, he said.
"We started 2013 big, investing, innovating and expanding to strengthen our network and continue providing the best service to our customers," said Martel. "We also have a strong commitment to continue contributing to Puerto Rico's economic growth."
The new locations are included in T-Mobile's $7 million investment strategy announced late last year. T-Mobile's expansion plan includes making over its 40 stores throughout the island, plus opening new ones.
Simultaneously, the company continues modernizing its network to enable more capacity and improve in-building coverage. In the past two years, T-Mobile has invested $300 million in capital improvements in Puerto Rico, with the goal of expanding its customer base to more parts of the island.
"In the last six months, when compared to the prior six months, our customer base has grown by between 25 percent and 30 percent, which is saying a lot considering that generally speaking, Puerto Rico's wireless market has leveled off," said Martel, adding that while the post-paid segment has remained stable, customers looking for pre-paid service have increased and now account for about 23 percent of the Puerto Rico wireless market.
In both cases, customers are looking for smartphones that offer Internet connectivity and other benefits in addition to basic voice, he said.
The company's network enhancements include ongoing development of its LTE network, while emphasizing on its islandwide HSPA+ digital platform, he said. T-Mobile's 4G service was recently expanded to San Germán, Yauco, Vega Alta and Manatí.
Sponsorships and advertising
In keeping with its corporate tradition of sponsoring sports and athletes, during the news conference, Martel also offered details of an agreement with Major League Baseball and its affiliation with the upcoming World Baseball Classic tournament in Puerto Rico, for which it will provide all wireless communications for the event.
And in keeping with the baseball theme, T-Mobile also unveiled its latest multimedia advertising campaign featuring Puerto Rican baseball stars Carlos Delgado and Yadier Molina. The $2 million marketing push comprises several television spots filmed and produced entirely on the island featuring the athletes, as well as T-Mobile's network speed and coverage.
"At T-Mobile we're very excited about this new campaign, featuring our two stars Carlos Delgado and Yadier Molina in a way they're not often seen," said Lyanette Dávila, T-Mobile Puerto Rico's senior marketing manager. "Our campaigns are characterized by the entertainment factor, for being innovative, yet relevant to our consumers. We are also very proud of being one of the sponsors of the World Baseball Classic in Puerto Rico for the third time and give our full support and communication services to the national team."
While Molina was absent for the press conference as he is currently in spring training, Delgado said teaming up with T-Mobile for this specific effort "goes beyond a commercial agreement, as it impacts the community and philanthropic efforts carried out through the Extra Bases foundation."
The wireless carrier will donate $30,000 to his nonprofit, on top of the $25,000 granted last year and other money awarded over a seven-year stretch, he said.