Mentor Technical Group expands Caguas plant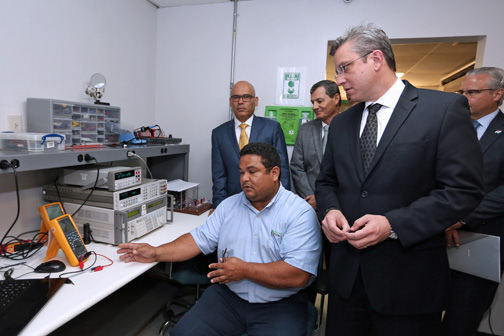 Caguas-based life sciences company Mentor Technical Group, Corp. has spent the last year expanding its plant, creating more than 110 jobs with assistance from the Puerto Rico Industrial Development Company, executives and administration officials announced Tuesday.
The company, which also has operations in Raleigh, North Carolina, provides technical support and solutions to the regulated industries of biotechnology, pharmaceutical and medical devices.
"Mentor is a great example of how the life sciences industry has evolved and developed roots in Puerto Rico, exporting services provided by our human capital to other parts of the world," said PRIDCO Executive Director Antonio Medina-Comas.
The company has become a key supplier and employer locally, providing services to companies in Puerto Rico and other manufacturing sites in the Dominican Republic, the United States and Mexico, he added.
Over the past year, Mentor has been executing its growth plans to expand its services to other regions of the Caribbean and Latin America, with an investment of approximately $750,000.
The company expects to create approximately 50 additional jobs, for a total of 160 new jobs committed with PRIDCO, which has approved $240,000 in payroll incentives. The company is currently applying for benefits under Law 20, to receive incentives for qualifying export activities. Mentor is also seeking approval to receive a preferential 4 percent tax rate for eligible activities, Medina-Comas said during a news conference at the Caguas plant on Tuesday.
"Our team works in perfect sync, as we understand the needs of our customers and deliver solutions that create synergy and results", said Luis David Soto, a founding member of Mentor.
Mentor assists clients of the life sciences sector providing services such as integrated facilities management, calibration, instrumentation, and control systems; laboratory quality operations; pharmaceutical manufacturing process and packaging solutions; project/construction management, among others.
Currently, the company services nine of the top 10 global life sciences companies, including Johnson & Johnson, Amgen, Lilly, Pfizer, Bristol-Myers Squibb and Merck.
Mentor was founded in 2000 and currently employs some 500 people in Puerto Rico, providing employment opportunities for highly educated, superiorly trained, and dedicated professionals equipped with the expertise and experience required to provide a complete portfolio of technical support and solutions for the regulated industry. Job listings are available at mentortg.com.