The Mall of San Juan opening in March '15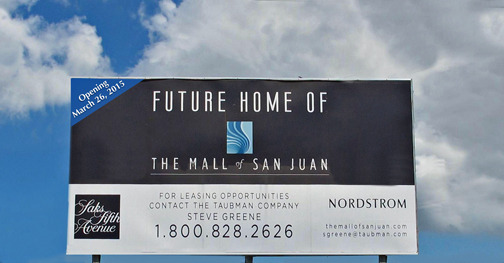 Taubman Centers and New Century Development Corp. announced Tuesday that $400 million The Mall of San Juan upscale retail project will have its grand opening in two years, on March 26, 2015.
"We look forward to becoming the premier shopping destination for both residents and tourists of this beautiful island," said Taubman Chief Operating Officer William Taubman.
The approximately 650,000-square-foot shopping center will feature the first Nordstrom and Saks Fifth Avenue on the island, in addition to more than 100 specialty stores and restaurants, approximately 60 percent of which will be new to Puerto Rico.
The 2015 opening is a few months later than the company expected to open, which was originally announced would be in late 2014. The developers broke ground on the ambitious project in September 2012, as this media outlet reported.
"We're extremely excited about opening our Saks Fifth Avenue store in Puerto Rico," said Steve Sadove, chairman and chief executive officer of Saks Incorporated. "Our showcase store will offer a distinctive assortment of merchandise, and our associates will provide exemplary customer service. We very much look forward to serving both the residents of and visitors to the area."
The Mall of San Juan will be located on a 27-acre parcel of land adjacent to the San Jose Lagoon where the former Villa Panamericana housing complex one stood at the south end of the Teodoro Moscoso Bridge, is just two miles from the Luis Muñoz Marín International airport.
It will be designed to reflect the rich culture and heritage of San Juan, but with a fresh, contemporary twist, developers have said.
"The architecture will have a timeless character and utilize quality materials and finishes to enrich the shopping experience. Customer-friendly amenities along with easy parking and access will enhance the comfort and convenience of visitors," Taubman said in a statement.
The Mall of San Juan will also house dining and entertainment options as well as a 225-room Crowne Plaza hotel and casino.
"We're thrilled the opening date has been set so we can finally begin serving customers in Puerto Rico," said Erik Nordstrom, president of stores for Nordstrom. "We plan to offer exciting fashion brands and work to deliver an unparalleled service experience – both of which we think island customers and tourists alike will be looking for."