Tourism Chief: DMO will create new industry jobs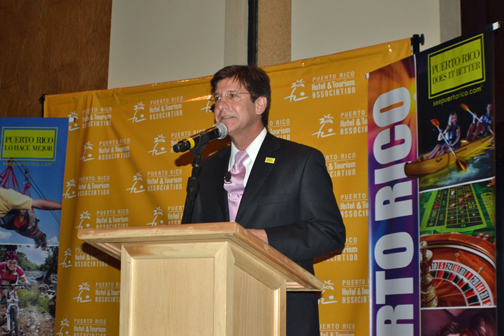 Puerto Rico Tourism Company Executive Director Luis Rivera Marín reiterated the government's commitment to developing the tourism industry through the creation of a Destination Management Organization, which should increase the sector's economic contributions and generate more jobs.
The DMO to be run by a group of representatives from the public and private sectors, would be responsible for overseeing marketing efforts and continuity for the island under a single brand and as a unified front representing all of Puerto Rico's tourism components.
Gov. Luis Fortuño told Puerto Rico hoteliers he will be signing an executive order this week to formally establish the group that will have to present recommendations and a draft bill of the law to be filed in January 2013 to create the DMO.
"The creation of the DMO not only guarantees Tourism Company and Puerto Rico Convention Bureau jobs, but also creates more opportunities in the tourism industry," said Rivera Marín. "The idea is that the work of marketing the destination is led by an organization that is consistent in the strategies and marketing programs of the island as a destination and to ensure the wide participation of all sectors of the industry."
The Tourism Company will continue regulating the industry and promoting the development of new properties and infrastructure, and supporting all of the island's tourism components, he said.
"This partnership will result in more jobs in the tourism industry after implementing the strategies outlined by the DMO," Rivera Maríns aid. "Puerto Rico will maximize its promotional efforts through effective coordination between government and non-government sectors."