Toyota showcases eco-friendly practices in 'Technological Rainforest Expo'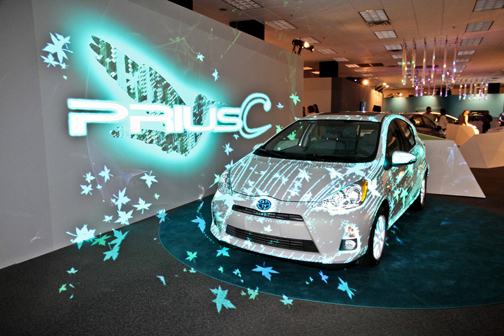 With a grand display of the auto industry's most advanced eco-friendly technologies and as an educational initiative during "Earth Month," Toyota de Puerto Rico inaugurated Monday its "Technological Rainforest Expo" at the Plaza las Américas mall in Hato Rey.
The "Technological Rainforest Expo" aims to show in an innovative way how automotive technologies are used to support environmental preservation and protection and promote driver's safety, company officials said.
"Through visuals and an extensive display of hybrid vehicles, attendees will be able to see and learn about innovation in the areas of technology and safety, helping to raise awareness and highlight the importance of finding alternative mobility technologies that save energy, protect the environment and support sustainability efforts," said Nancy Navales, sales and marketing director of Toyota de Puerto Rico. "Certainly, Toyota's technology reaffirms that human beings, nature and technology can coexist in harmony."
The "Technological Rainforest Expo" features the entire Prius vehicle lineup —Prius, Pruis V, Pruis C and Plug-In — the flagship hybrid model that has sold more than two million cars worldwide, as well as other models such as the Camry HSD, HSD Highlander and the Lexus hybrid line.
Toyota launched its hybrid technology in 1997, introducing it stateside in 2000. It has been one of the most significant technological developments in the automotive industry since, the Toyota executive explained.
"As a result of the launch of Toyota's hybrid technology, U.S. regulatory agencies had to create the Ultra Low Emissions Vehicle category precisely because of our hybrids, to be able to classify the segment, since up until that time there were no such vehicles in the market," Navales said, noting Toyota invests "$1 million per hour to develop innovative technologies."
The expo takes place through April 30, at the former Border's location, during the mall's regular operating hours. Admission is free and open to the general public.