Caguas waste transfer station gets $1.1M improvement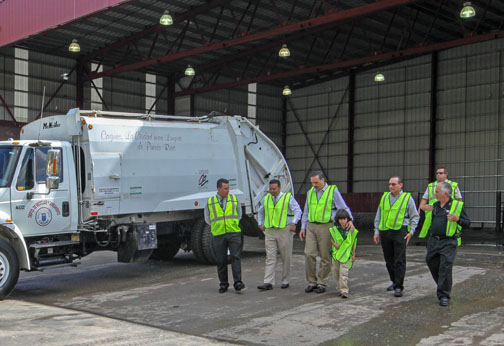 The municipality of Caguas and Waste Management inaugurated Tuesday the remodeled facilities of the waste transfer station, improved at a cost of $1.1 million in private funding.
Caguas Mayor William Miranda-Torres, along with José Cardona, director of government affairs and community relations for Waste Management, offered details of the improvements, which includes greater capacity to manage solid waste.
"The station began operations in 1994 and at that time was the first in Puerto Rico and subsidized by municipal funds. This transfer station represents a common front to address the problems of overpopulation, pollution production, conservation of biodiversity and other environmental concerns," said Miranda Torres.
The remodeling of the transfer station, which has a handling capacity of 1,800 tons daily, included replacing the building layout, repairing the water runoff and water usage management systems.
"This transfer station offers the advantage to the town to have a waste collection and cargo consolidation service resulting in lower transportation costs," said Cardona. "This is because residential pickup trucks do not have to travel long distances to other municipalities to deposit that discharge because they have their own station and can return to their own routes efficiently and immediately."
Meanwhile, the renovation project included the installation of solar panels that generate 6 kW of power installed to serve as a green roof gazebo that was also included on the list of improvements. Five other light fixtures were installed at the station's main entrance. High efficiency LED-type bulbs and motion sensors that reduce the intensity and energy consumption when no personnel is in the area were also installed.
The station receives all non-recyclable waste generated in Caguas, as well as from other Waste Management private clients, officials said.