TravelMaps Inc. buys San Juan Guide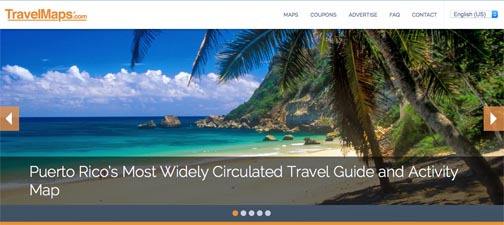 Puerto Rico's islandwide tourist map publisher, TravelMaps Inc., announced the purchase of the San Juan Guide, a locally owned pocket-sized guide with a 40-year history. The new owners are working to produce the next edition with new content in 2015.
The complementary relationship of these two publications will be a significant boost for the island's tourism industry. In addition to tourist maps, TravelMaps will now provide more entertaining and valuable information to guide travelers in the San Juan area, along with more out-island options for Puerto Rico's adventure seekers, company executives said.
"San Juan Guide is the first guide for Old San Juan and is still running today," said Blanche Gelabert, founder of the San Juan Guide.
"What interested us is the high quality content of the San Juan Guide. Plus, the advertising is highly cost effective — evidenced by both the San Juan Guides' and TravelMaps' ad renewal rates being consistently higher that other Puerto Rico travel guides," said Deborah Pendergast, principal of TravelMaps.
The terms of the deal were undisclosed.
TravelMaps has a history of being Puerto Rico's most widely circulated publication, printing 1 million cartographic maps annually. With plans to double San Juan Guide's circulation, create a modern website, and slash its advertising rates, TravelMaps expects to substantially improve information for travelers and increase advertiser confidence, company officials predicted.