Triple-S to offer cell phones to gov't health plan recipients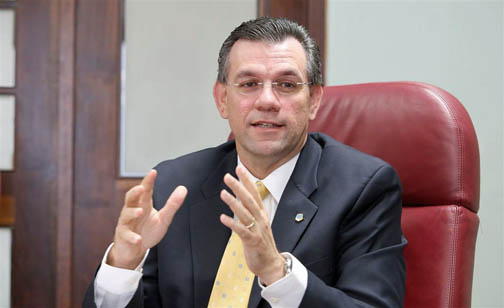 Triple-S Salud will offer government health plan beneficiaries a cell phone that will allow them to care for and monitor their health conditions, the company announced Thursday.
Through an agreement with TracFone Wireless Inc., and its SafeLink program, qualified GHP beneficiaries will obtain — at no cost — a cell phone with different plan options with up to a maximum of 250 minutes for calls and unlimited texts.
The service, supported by a federal program, will be available to one beneficiary per household. The beneficiaries will be able to take part in health education programs developed by Voxiva, a pioneer in the development of interactive health services for mobile phones.
"For Triple-S, this agreement represents a unique and valuable opportunity to offer the GHP population a tool that could make a difference in their health care," said Pablo Almodóvar, president of Triple-S Salud.
Aside from its capabilities for calls and texts, the service offers at no additional costs the option to enroll in a mobile health program that sends reminders for doctor's appointments and reliable health information, developed in partnership with the Centers for Disease Control and Prevention and other reputable organizations, Almodóvar added.
"For example, pregnant women can subscribe to the Tex4baby program and receive texts and information related to the health of mother and baby during pregnancy. Similarly, after the baby is born, by using Text4kids, they can receive reminders for vaccination schedules, and milestones for the baby's growth and development, among others," said Almodóvar.
The executive added that adults can enroll in Tex4health, a personalized health program that takes into consideration sex, age, and personal risk factors. The information is available in English or Spanish.
"This mobile health education program will not only have a positive impact on prevention related quality measures with which we have to comply as a health plan, but it will also promote self-care and offer beneficiaries tools to take control of their health," Almodóvar said.
Government health plan beneficiaries will receive by mail, in the coming weeks, information on how they can apply for this cell phone service, the company informed.