Univ. of Miami, Pierluisi Foundation team on scholarship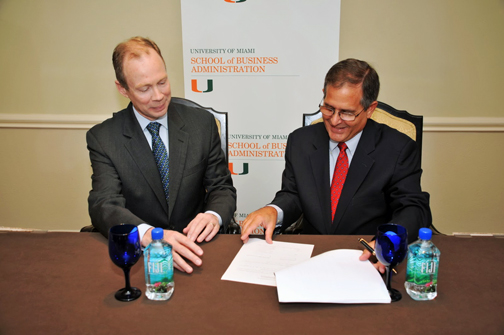 The University of Miami School of Business Administration announced an alliance with the José Jaime Pierluisi Foundation to boost the number and amount of scholarships available to participants in the School's Puerto Rico Executive MBA program.
Under the agreement, the Pierluisi Foundation will provide five $10,000 scholarships to qualified individuals who are accepted into the MBA class beginning in October 2013. The $10,000 award will be in addition to scholarships of up to $15,000 offered by the School of Business to the same candidates, bringing the total scholarship amount to as much as $25,000 for each awardee.
The School of Business and the Pierluisi Foundation will jointly select scholarship recipients. Awards will be based on several factors including demonstrated need, previous academic experience, and leadership potential.
"We are delighted to partner with the University of Miami and its Puerto Rico Executive MBA program as part of our mission to develop Puerto Rico's business leadership through higher education," said Jorge A. Pierluisi, Jr., president of the Jose Jaime Pierluisi Foundation.
"This alliance will help more individuals who have strong leadership potential and who are committed to the betterment of our society participate in a world-class MBA program and become the kind of leaders we need to ensure the future economic vitality of Puerto Rico," he said.
In March, the college announced its own scholarships ranging from $5,000 to $15,000. These scholarships remain available in addition to the five new scholarships offered though the School's alliance with the Pierluisi Foundation. Applicants are encouraged to apply early to maximize their scholarship award.
The School of Business has offered its Executive MBA program in Puerto Rico since 2009, with classes held each Saturday in San Juan. The same professors who teach on the School's main campus in Miami fly to Puerto Rico each weekend to teach the classes there. With classes held locally and on Saturday, professionals living and working in Puerto Rico can earn the University of Miami MBA degree without interrupting their careers.
The Puerto Rico Executive MBA program is designed to enhance the general business, critical thinking, decision-making and strategic skills of business executives. Emphasis is placed on global management practices; global markets; understanding information, finance, and people; and leadership development. Classes are held at the headquarters of the Puerto Rico Manufacturers Association in San Juan.
More information about the University of Miami Executive MBA program in Puerto Rico can be found here.