UPR-Cayey hosts 'unique' farmers market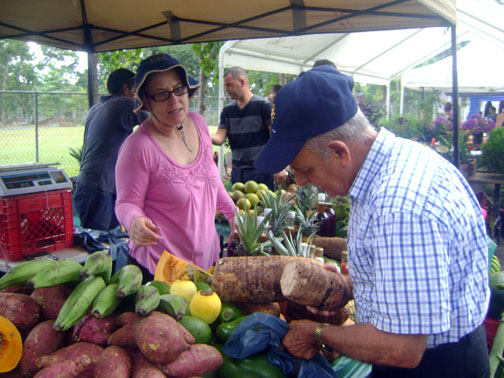 The University of Puerto Rico's Cayey campus, one of the island's top universities specializing in the areas of science and entrepreneurship, has become home to one of the most important agricultural markets of the island, integrating lessons in health and economic development.
The "Verdes Sombras" (Green Shadows) Farmers Market, named after a park by the same name located on campus grounds and where area families go to enjoy natural, recreational facilities teeming with local flora and fauna, held its first edition earlier this month, drawins dozens of farmers from the island's central-eastern region.
They had the opportunity to participate in an agro education meeting and were able to expose and sell their products to families and small businesses who joined the event.
UPR-Cayey Rector Juan Varona said the success of the event is already leading to the possibility of offering recurrent workshops on topics such as community hydroponics, landscaping, crops and marketing workshops and business management to farmers participating in the initiatives to develop the recreational facility. The latter workshop would be organized in partnership with the UPR-Utuado and the UPR-Mayagüez campus, he said.
"The UPR Cayey is much more than a university, our vision is to be drivers of change agents in our community who contribute to our environmental, social and economic development," Varona said. "It's our reason for being. And by educating our visitors and improving opportunities and training for the agricultural sector, we'll get it done."
The Verdes Sombras Park is open Wednesday through Sunday from 9 a.m. to 5 p.m. Guided tours of the park are available by calling 787-738-2161 ext. 2127 or via email at: ossopa2.cayey@upr.edu.