USACE, PREPA sign 1st work order for permanent repair of Guajataca Dam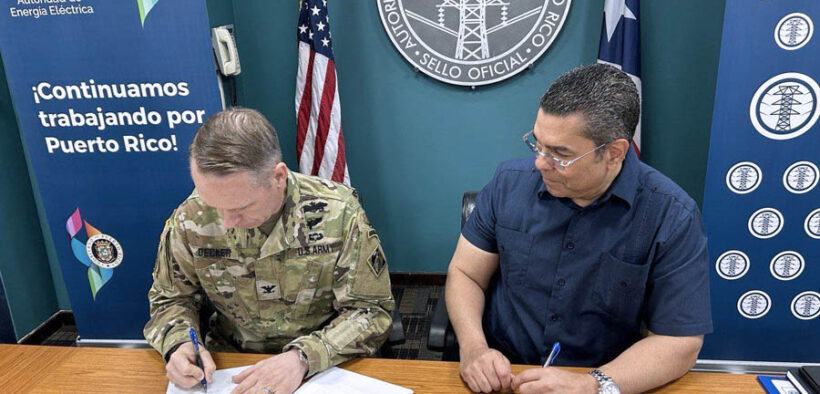 The executive director of the Puerto Rico Electric Power Authority (PREPA), Josué A. Colón-Ortiz, and Col. Charles L. Decker, commander of the Task Force Virgin Islands Puerto Rico (TF VIPR), U.S. Army Corps of Engineers (USACE), South Atlantic Division, signed the first work order on June 29 at the La Fortaleza executive mansion, following the signing of the memorandum of agreement announced by Gov. Pedro R. Pierluisi, to begin repair work on the Guajataca Dam.
About two months after endorsing a memorandum of agreement to secure nearly $1 billion for repairs to the Guajataca Dam, USACE and PREPA officials signed off on the first work order this week.
"Through this historic collaboration agreement between USACE and PREPA, the damage caused to the Guajataca dam by Hurricane María will be permanently repaired," Colón-Ortiz said.
With the work order, whose cost exceeds $50 million, the engineering and risk analysis studies for the dam project begin. Colón-Ortiz said the order is especially important because it is the first to be officially signed under the TF VIPR, which oversees infrastructure projects in Puerto Rico and the USVI.
"In addition, other structural improvements will be addressed that will place this important facility in compliance with current codes for the tranquility and benefit of the nearly 300,000 citizens who reside in the municipalities of San Sebastián, Quebradillas, Isabela, Moca, Aguada and Aguadilla. With this great project, we are going to bring a dam from 1929 to the 21st century," Colón-Ortiz added.