Velocicharge launches $1.5M expansion of EV charging network in Puerto Rico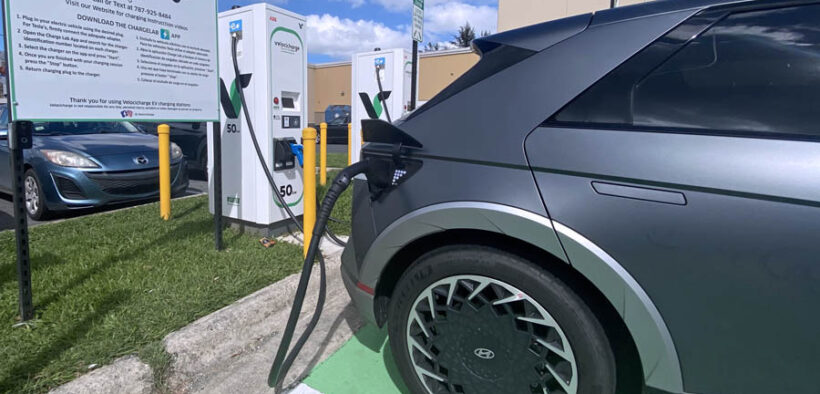 Electric mobility technology provider Velocicharge announced a $1.5 million expansion of its electric vehicle charging station network across Puerto Rico, through which it will install charging stations at several shopping centers, including Plaza Las Américas, Plaza del Caribe, Plaza Río Hondo and Céntrico, in partnership with Visotek, the distributor and installer of ABB charging solutions on the island.
"At a time when sustainable mobility is on the rise, the demand for reliable and accessible charging stations has become imperative. Velocicharge is committed to leading this change and transforming the way Puerto Ricans commute," said Carlos Vizcarrondo, CEO of Visotek and Velocicharge.
"By strategically adding charging stations in key locations, we are bringing the convenience of electric vehicle charging closer to more people than ever before," Vizcarrondo said.
Construction at the new locations will begin in October and continue until January, featuring ABB TERRA 54 level 3 chargers with 50-kilowatt (kW) capacity, he said.
Plaza Las Américas will host four level 3 charging stations with up to 50 kW capacity, located in the eastern area near PF Chang's and The Cheesecake Factory.
Like other Velocicharge locations, consumers can charge their vehicles "easily, reliably and safely, with the convenience of strategically located stations," he said.
Plaza del Caribe will initially house two level 3 charging stations near the Macy's entrance by Starbucks, with the installation configured to accommodate up to seven level 3 fast chargers as demand evolves.
"We're proud to partner with Velocicharge and Visotek to offer our customers an exceptional electric vehicle charging experience at Plaza Las Américas and Plaza del Caribe," said Edwin Tavárez, general manager of Plaza Las Américas and Plaza del Caribe.
"The project aligns perfectly with our vision of offering the most comprehensive service to our customers, adopting new technologies and keeping innovation at the forefront of everything we do," Tavárez said.
Both shopping centers' stations will be backed by Velocicharge and Visotek's software, operation and expertise, the companies said.
"This expansion directly responds to the needs and growth of the electric vehicle community in Puerto Rico. According to the latest industry reports, electric vehicle adoption is continually increasing, underscoring the importance of having a reliable charging network," said Vizcarrondo.
Céntrico in Guayama will have four chargers, including one fast-charging level 3 charger with 50 kW capacity and three level 2 chargers with 7.7 kW capacity.
"The ability to evolve in tune with the demands of today's and future consumers is key to providing convenience," said Vimarie Brenes, marketing director of PG Management Corp., the property manager of Céntrico.
"The strategic alliance with Velocicharge and Visotek fills us with enthusiasm because we understand that the charging experience should be both simple and reliable. What better way to enjoy a shopping or relaxation session than doing it while your vehicle recharges?" Brenes said.
More stations in the works
In addition to Plaza del Caribe in Ponce, current and future electric vehicle owners will have access to charging stations in Bayamón and Guayama as well.
Four chargers will be installed at Plaza Río Hondo shopping center, including two fast-charging level 3 chargers with 50 kW capacity and two level 2 chargers with 7.7 kW capacity.
Plaza del Norte in Hatillo was the first shopping center in Puerto Rico to have the most powerful charger to date, with a capacity of up to 120 kW, offering a charging speed of approximately 30 minutes from 0% to 100%, depending on the battery size.
Velocicharge established its third charging station at this Hatillo shopping center in July 2022.
"Our collaboration with Velocicharge and Visotek in our shopping centers enhances the value of the experience we offer to our customers. Now our visitors will enjoy exceptional electric vehicle charging service at Plaza Río Hondo and Plaza del Norte. This project aligns with our vision of innovation and customer service," said Francis X. González, president of Curzon Puerto Rico, which operates Plaza Río Hondo and Plaza del Caribe.
The new chargers will join the existing 16 across Plaza del Norte in Hatillo, Outlets 66 in Canóvanas, The Outlets at Montehiedra in San Juan, and Catalinas Mall in Caguas, bringing the total to more than 30 chargers.
Velocicharge entered the electric vehicle industry in December 2021.
Alliance with Hyundai Puerto Rico
Velocicharge also announced its partnership with Hyundai of Puerto Rico, through its new Velocicharge software and application. This is done through a special incentive for the purchase of Hyundai's new models, including the Ioniq 5, Ioniq 6 and Kona EV.
"This incentive that we wish to offer is made possible through the infrastructure and management of public charging stations like those of Velocicharge. It reflects Hyundai Puerto Rico's strong commitment to sustainable mobility and its desire to enhance the experience with its electric vehicle lineup," said Guillermo Rodríguez, senior marketing and advertising manager of Hyundai Puerto Rico.
"Now, customers wishing to purchase one of our models will receive a unique voucher, with an amount provided by Hyundai as an incentive, which they can configure automatically using Velocicharge's new software to receive complimentary charging," Rodríguez said.
"With this collaboration, Hyundai Puerto Rico not only promotes the adoption of electric vehicles on the island but also demonstrates its support for a high-quality and accessible charging network for all," he added.
This benefit will be managed directly with participating auto dealerships.