Verdanza Hotel management betting on good 5th year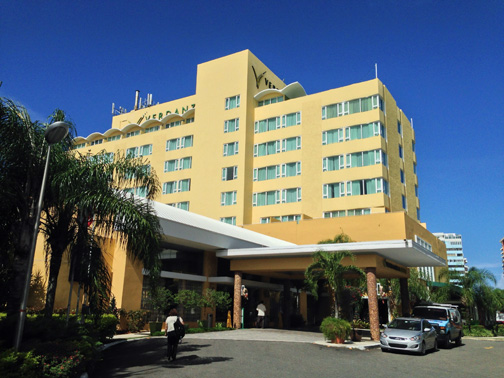 The Verdanza Hotel, an independent full-service hotel, is entering its fifth year of operations with optimism and betting on a good peak tourism season that will fuel its projects in 2014, and beyond.
During an exclusive interview with this media outlet, Rick Newman, president of Flagship Resort Properties, which owns the Isla Verde hotel, said several factors should put positive pressure on this year's tourism season, starting with the government's marketing campaign.
"We think the Puerto Rico Tourism Company's marketing campaign, at least the visuals they've put together, are very good," he said. "For better or worse, Puerto Rico has gotten a lot of attention in stateside media, and we're out there being talked about."
"We believe that those elements, coupled with the fact that winter started early up north this year, will bring many tourists this season. We also think that revenue-wise, 2014 should be relatively good with the support of the campaigns that are currently running," Newman added. Puerto Rico's tourism season runs from Dec. 15 to April 15.
"A good tourist season gives us that boost for the year; we raise funds during these months so that we can provide good rates off-season and be aggressive in this market," he said. "The season is an opportunity to generate business and we'll take it any way we can get it."
The Verdanza Hotel opened its doors in December 2009, after Flagship Resort Properties opted out of the agreement it had with Holiday Inn since 2004, when it purchased the 222-room property for $20 million.
Since then, the company has pumped close to another $7 million to spruce up the property to draw both the family and business traveler looking to stay at a moderately priced hotel a block away from the beach and five minutes from the Luis Muñoz Marín International Airport.
"We have a good family visitor base as well as a strong corporate market. Our meeting rooms are excellent and we host about 300 to 350 groups a year," he said, noting the property features more than 16,000 square feet of meeting space.
Puerto Rico's fiscal issues a concern
Despite the positive outlook for next year, Newman was candid about concerns he shares with the rest of the industry regarding Puerto Rico's bleak fiscal situation, which has prompted the government to implement and raise taxes, increase utility rates and eliminate important exemptions that essentially make doing business more expensive.
"We just can't afford to have the government put its hands in our pockets. What happens is that our profit base drops and our ability to create reserves for infrastructure repairs is diminished," he said.
"So we have to get to a point where the agencies and the Legislature must understand that we have to hold back on any laws that create a financial imposition on us, because we need a couple of good years of revenue and reserves to keep moving forward," Newman said.
Expenses such as energy costs and the elimination of the business-to-business tax exemption have all but wiped out available reserve funds that hotels dip into to remodel and continue improving their infrastructures, he added.
"We have to raise funds that allow us to create reserves, so that in the long-run we don't end up with deteriorated properties. We're looking for the government to forestall any imposition of additional taxes on us, because we've simply been hit too hard," Newman said.
The Verdanza Hotel generates about 200 direct and 150 indirect jobs in the tourism sector.