Walgreens equips Puerto Rico's back-to-schoolers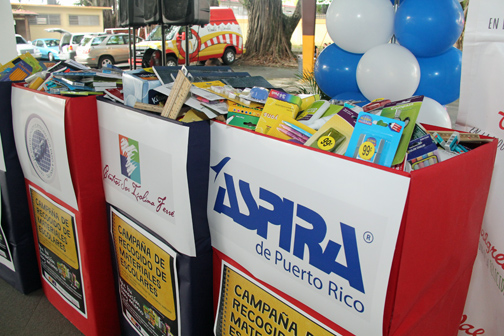 For the second consecutive year, Walgreens has distributed thousands of school supplies to Puerto Rico-based educational organizations that are part of the Alternative Education Alliance, to benefit students islandwide.
"For the second year in a row, we have been sponsoring a back-to-school campaign in our stores to collect school supplies during the month of July, to benefit of the organizations the Alliance comprises," said Nivia Santiago, vice president in charge of operations in Walgreens Puerto Rico, during an event held over the weekend at the New School Juan Ponce de León, in the Juan Domingo sector in Guaynabo.
"All of the school supplies donated by our customers and employees will go to thousands of students served by about nine organizations," she said.
During its campaign, Walgreens collected an estimated 103,000 items, including notebooks, pencils, pens, crayons, scissors, glue, paper, markers, etc., "which will not only help ease the burden of economically disadvantaged families who do not have the resources to equip their children with the materials for back-to-school, but will also provide assistance to teachers to ensure that students have the tools for a proper education," Santiago said.
Some of the organizations that make up the nonprofit Alliance include ASPIRA of Puerto Rico, Centros Sor Isolina Ferré, NACER, and Proyecto de Educación Comunal de Entrega y Servicio, among others. These organizations represent about 13 education centers located in San Juan, Guayama, Caguas, Humacao, Mayagüez, Aguada, Canovanas, Loiza, Bayamón, Carolina and Ponce.