Walmart PR to launch Bettina Cosmetics in 105 FL stores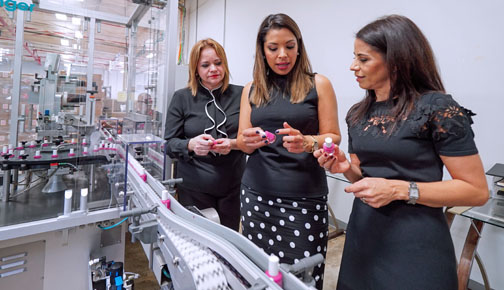 Walmart Puerto Rico announced Monday the expansion of the Bettina Cosmetics brand in Florida through the sale of the locally produced nail polish products in 105 additional stores throughout the state.
The expansion may represent a 50 percent growth for the local company, Viviana Mercado, senior manager of corporate affair for Walmart Puerto Rico said.
"We're proud to make this great announcement within the framework of the 'Hecho en Puerto Rico' week and provide the opportunity for local entrepreneurs to expand their product lines and export to significantly grow their businesses, Mercado said.
"This is one of the multiple strategies through which Walmart promotes Puerto Rico's socioeconomic development, acting as a platform of growth for the local entrepreneur and farmer," added the executive responsible for the development of local purchasing initiatives and the "Agroentrepreneurs," "Business success," and "Making Community" programs.
This expansion represents for Bettina Cosmetics weekly sales of between 8,000 and 10,000 units of enamels. "The commitment of our company is to work to provide benefits that will multiply for all Puerto Ricans," said Jennifer Rosa, a Walmart Puerto Rico buyer.
Meanwhile, Bettina Mercado, president of the company that makes a full line of cosmetics, said the opportunity Walmart is providing represents the capacity to potentially double its business.
"For us this means great hope for growth and of communicating to the world that we have global possibilities," she said, adding that 25 years ago, Walmart Puerto Rico gave Bettina the first opportunity to sell its product, when the company was led by her mother.
The executive said although the increase in sales will be carried out in stores in the United States, her company is local, which results in the retention and creation of jobs and increased commercial activity in Puerto Rico.
"This would be the biggest growth opportunity our company has had and it comes at a time of economic challenges," Bettina Mercado said.
Currently, 80 percent of the merchandise sold at Walmart stores on the island comes from local suppliers, representing an annual investment of approximately $1.6 billion, of which $500 million is spent on the purchase of goods produced, harvested, manufactured or manufactured in Puerto Rico, the retailer said.