Walmart, Education partner to send moms back to school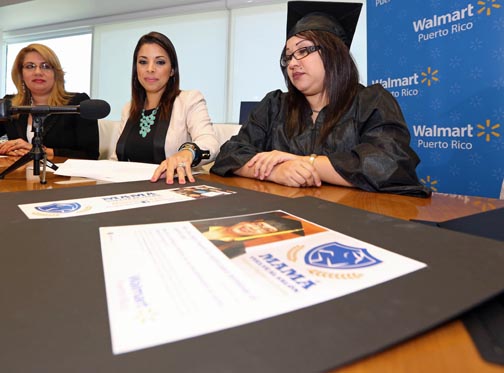 For the second consecutive year, Walmart Puerto Rico, through a partnership with the Education Department will help mothers who have not completed high school to get their diploma through its social responsibility program, "Mom goes back to School."
This year, the program will reach 25 mothers, 15 more than in 2012, who aside from getting necessary school materials will get additional tools to complete their high school senior year. Participants will receive the help of a counselor or tutor, take part in lectures and workshops on self-esteem, personal appearance, time management and motivation, among others.
Upon "graduating," and complying with Education Department guidelines to receive their diploma, Walmart will gift each one of them with a tablet computer.
"Several of the mothers who participated in our program in 2012, graduated high school and can continue their lives better prepared to fight for their wellbeing and that of their families," said Viviana Mercado, corporate affairs manager of Walmart Puerto Rico.
"Based on this experience, our goal in 2013 is to continue developing this initiative to provide this personal growth opportunity to a greater number of mothers, so that they can move forward through their efforts and our support," she said.
Those interested in participating must be 16 and older and should sign up through Walmart's Facebook page, where aside from submitting their personal data, the women should also submit a short story saying why they want to excel and finish high school. Deadline for participation is Aug. 2.