Weekend Wheels: Toyota hybrids are all-inclusive rides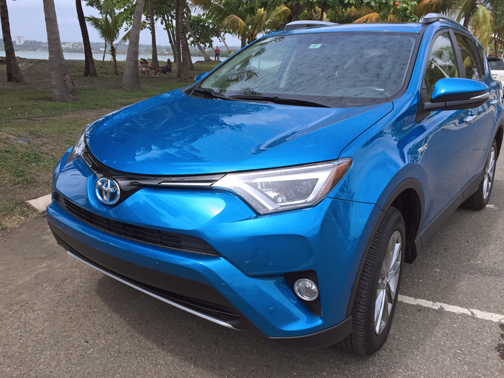 The Toyota family of hybrid vehicles includes a new generation of members that are excelling at performance, elegance and comfort. Over the past two weekends, this media outlet got the opportunity to test drive two of them — the 2016 RAV4 and Prius — confirming that for many reasons, their sticker price is a long-term investment that pays off.
The 2016 RAV4 is the latest evolution of the model introduced to market 15 years ago, featuring a modern look and a spectrum of manufactured features, in a package that promises more agility and fun on the road. To top it off, the RAV4 hybrid's under-the-hood technology balances the use of fuel and electricity to provide a gas mileage per gallon of 34 in the city and 31 on highways, keeping it a budget-friendly ride.
The 2016 RAV4 "is an evolution of the compact SUV that marked a precedent when it first reached the market, keeping alive a legacy of quality, reliability, performance, safety and durability, qualities that are part of the brand. This is why RAV4 has been one of the most sold models in its segment," said Joseph Barba, vice president of sales and marketing for Toyota Puerto Rico Corp.
"Times have changed since then and with it the reality of consumers. Therefore, in addition to its updated design, RAV4 now has a variety of features normally reserved for more expensive models," he said. "This, together with its drive train, the RAV4 provides quality, agilility and fun, to make daily living a real adventure."
The experience of the new RAV4 starts with its range of new factory features, which include rear door gate lift that opens up to provide better access to the cargo area; acoustic glass to minimize outside noise; and reverse camera that provides excellent visibility of everything that is behind the vehicle. It also has a sport suspension, which provides quality more dynamic and responsive handling.
Inside, all RAV4 models offer greater refinement and technology. It includes the option of a 7-inch touch screen with sound, multi-information display of 4.2 inches, electrical outlets, additional USB and luxurious touch materials. Its interior space is larger than the previous model; promises more quality and comfort, plus a higher level of functionality. The driving position has been designed for the driver to go more comfortable and have better visibility. And to accommodate more stuff, a cargo area similar to the trunk space of larger vehicles of other segments.
Outside, the 2016 RAV4 boasts a more sophisticated front design that combines stylish and urban aesthetics. The front grille is now wider and horizontal bar; a bumper aerodynamic front accentuates its image. The back shows a more rigid style forms of rear lights, spoiler and medallion. The RAV4 starts at $33,300 in Puerto Rico, where it is available at Toyota's dealership network.
Meanwhile, the new generation of the sporty Prius focuses on a more aerodynamic design that incorporates an array of technological features through which Toyota is setting the stage for the future in mobility.
"With Prius 2016, we've created a car for the new citizens of the world who seek to change to a smart, comfortable and safe mobility, but at the same time one that is sustainable and friendly to the environment," Barba said. "This new generation of the best-selling hybrid in the world incorporates significant changes in design, equipment and technology that will make it an example to innovation, efficiency and sustainability."
The latest Prius model has a more aerodynamic design than its predecessors, sporting a new front façia that highlights the front grille and LED-type headlights. On the back, it highlights an innovative and sportier redesign, with a new set of taillights, that is rounded out by sleek lateral designs that add to the vehicle's agility.
That design is almost entirely responsible for the vehicle's off-the-charts fuel efficiency. Over the weekend, we ran some nearly 200 miles on about a quarter tank of gas. According to Toyota's specifications, the Prius offers 54 mpg on city roads, and 50 mph on highways.
On the inside, the Prius 2016 integrates innovating features in the cabin, including a color panel data and its "Head Up Display" (in the Premium version), which projects information onto the windshield and color images that can be observed at eye level. This allows the driver to keep their eyes on the road while keeping track of essential data such as speed and drive mode. It also has wireless charger for mobile phones, providing greater independence and simplicity of use of those devices.
"We're proud to be leaders in innovation, hybrid technology and sustainable mobility in Puerto Rico and the world. The development of hybrid cars is a priority for Toyota, it reflects our company's commitment to the environment and our contribution to build a better world," said Barba, adding that Toyota hybrid vehicles represent 15 percent of the automaker's total car sales worldwide. In the U.S., 65 percent of all hybrids sold are Toyota and Lexus-branded models.
The suggested sticker price for the Prius in Puerto Rico starts at $28,795.