Weekend Wheels: Toyota 86 '17 heats up P.R roads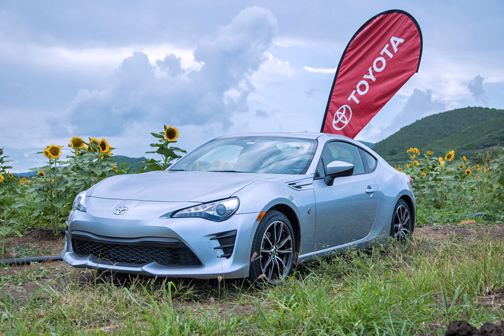 When it made its debut a few years ago, it received critical acclaim as an affordable rear-wheel drive sports coupé; and now, for 2017, it features a new name, new image and improved performance. Scion FR-S today adopts a fresh identity as Toyota 86, thus making official its transition to the Toyota family.
Recently, this media outlet got the chance to test drive the Toyota 86, discovering first-hand its powerful sports car throttle, elegant exterior and smooth driving on open roads.
It is a happy coincidence that the four-cylinder, 2.0-liter engine is 86mm in diameter and has movable dimensions. For hardcore Toyota fans, the 86 is, in fact, a revered insignia. The AE86 is the globally recognized name of the famed Toyota Corolla GT-S, which was sold in Puerto Rico throughout the 1980s. It was an affordable rear-wheel drive sports coupé with a high-RPM 1.6-liter engine, and was simply an incredible machine. In Japan it was known as the "hachi-roku", which means 8-6.
"What has not changed in the new Toyota 86 is the combination of style, performance, handling and affordability, elements which have made this sporty 2+2 a success among enthusiasts of all ages," said Maribel Bengoa, marketing manager at Toyota de Puerto Rico. "We're confident that given its style, performance and accessibility, Toyota 86 will set a new standard among sports car enthusiasts in Puerto Rico."
More than a pretty face (and aggressive)
In its transition to Toyota, the sporty 86 adopts more aggressive styling with a center of gravity that highlights the low and wide stance of this car. The front features a new hi-tech design with standard daytime-running headlights, blinkers, a new bezel for the fog lamps, and renewed bumper.
The rear-end lights of this sports car are LED and boast a more sculpted design integrated in the bumper, with aerodynamic diffuser. The alloy rims are also a new design and the 86 logo is incorporated in a plaque located on the front mud flaps, as well as in the headlights.
The interior of the car also features the 86 logo, located in the new "Granlux" material that is used to frame the instrument panel. This material adds a new sensation, soft to the touch and fitted to the door. The driver will also enjoy the seats, covered in new materials, with silver stitching and a renewed steering wheel that incorporates audio controls and features the 86 logo in its center.
A complete performance package
At 2,758 pounds (with six-speed manual transmission), Toyota 86 is one of the quickest sports cars in the market. The 86 is also more fun because of its low center of gravity and slim, low-lying body, with a drag coefficient of just 0.29 Cd.
The box-type 2.0-liter aluminum engine creates up to 205 horsepower at 7,000 rpm and 156 lbs-ft of torque, for a maximum of 6,400 rpm. (For the automatic model: 200 horsepower at 7,000 rpm and 151 lbs-ft of torque at 6,400 rpm). Its 86 mm x 86 mm diameter and moveable dimensions make the engine crave for more revolutions, while the double-synchronized variable valves help increase torque. As such, Toyota 86's response is incredible and is so effective in its execution, that running basic errands will be as exciting as an autocross race.
Among the high-performance features in the engine, to create 100 horsepower per liter of displacement, is the innovative Toyota D4-S fuel injection system, which combines direct injection and port injection technologies. The direct system cools the cylinders, allowing the engine to run a high proportion 12.5:1 compression. The port fuel injectors come into play when carrying light or medium cargo, to maximize combustion efficiency.
All of these facts and data add up to a rapid performance. However, Toyota 86 also offers exceptional fuel economy for a sports car. The EPA certifies it at 23 mpg/city and 32 mpg/highway, with six-speed automatic transmission; for six-speed manual transmission, the reading is 20 mpg/city and 27 mpg/highway.
Six speeds, two different paths
Sports car purists love the six-speed manual transmission of Toyota 86. It has a short cut shifter and easy clutch, thus making gear shifting a pleasant experience. The automatic transmission is a joy to handle because of its single-mount build, sport mode and Dynamic Rev Management technology, which can momentarily reduce the accelerator.
With super-fast gear shifting, Toyota 86 is tailor-made for purists who prefer the option of manual or automatic shifting. The high performance transmission is complemented with a standard limited Torsen displacement differential that helps maximize traction in the rear wheels when negotiating tight curves.
A purely sporty platform
That chassis on which Toyota 86 is built is a platform specially designed for a rear-wheel sports car, with MacPherson strut front suspension and double-wishbone rear suspension. The leather-clad steering wheel with electric energy steering assist provides rapid response, with just 2.48 turns from end to end and a 36.1-ft turn radius. In the hands of the driver, the thick steering wheel feels like a surgical instrument with which to operate on the road.
"The world's best sports cars boast a strong heritage. Toyota 86 certainly stays true to this fact, claiming as a predecessor the smaller Toyota Sports 800 of the mid 1960s, one of the first sports cars that featured a removable roof panel," Bengoa said.
"Then came the Toyota 2000 GT from 1967 through 1970, an exotic handmade coupé that made its mark with typical Toyota performance," she added.
The 2000 GT was a rarity, with just 351 built, of which 62 were imported to the United States. Many saw the 2000 GT for the first time (a custom-made roadster) in the 1967 James Bond film "You Only Live Twice." On the racetrack, the 2000 GT won the inaugural 6-Hour Fuji Race in 1967.
An interior space that is pure sports car
On the inside, intuitive controls help the driver stay alert while driving. A large, center-mounted tachometer is easy to ready; it also incorporates a digital speedometer and a programmable RPM reader. An analog speedometer on the left flanks all this and fuel level/temperature reads on the right.
Toyota 86 comes standard with a 7-inch touchscreen that incorporates rearview camera, audio system, Pioneer 8-speaker system, Bluetooth for hands-free phone functions and music streaming, HD Radio, and AUX and USB ports and connectivity.
The 2017 Toyota 86 also comes standard with Star Safety System, which features antilock brakes, electronic brake distribution, traction control, brake assist, vehicle stability control and Smart Stop technology.