Wireless connectivity at 33% capacity, COWs arrive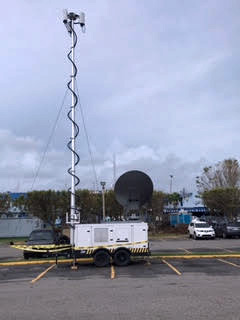 Puerto Rico's wireless telecommunications service is at 33 percent capacity, as carriers continue working 24/7 to restore the island's connections to the world as soon as possible, executives said.
Hurricane María downed most services when it pummeled the island on Sept. 20, toppling infrastructure and knocking out power to 100 percent of the island.
As of Saturday, 163 of the island's 1,600 communications towers are back in service, representing 67 more towers than the prior day, according to a report released after the daily meeting industry members hold at the Puerto Rico Convention Center, where the government has set up its command center.
The towers cover towns from Dorado to Canóvanas along the northern corridor, from San Juan to Caguas down the center of the island and the towns of Ponce, Arecibo and Aguadilla.
In its strategy to restore its services, AT&T brought in three COWs (Cell on Wheels), rolling satellite antennas for voice calls and text messages, which have been set up in Ponce, Arecibo and Aguadilla. The COW in Ponce is serving 40,000 subscribers, while the one in Arecibo is serving 25,000 customers. No information was provided for the Aguadilla COW.
Claro, meanwhile, has repaired most of the "ring" that runs along Puerto Rico's coastline, and a portion of the center of the island. On Saturday, the carrier reported that 100 percent of fixed service is back in Fajardo and Río Grande. Services to Ponce and Mayagüez were also restored this week.
Intraisland long distance service is up 65 for fixed line customers, while international long distance services are 100 percent restored, telecom executives confirmed.
In about a week, providers will install satellite internet equipment to serve the towns of Mayagüez, Arecibo Ponce, Río Grande, Cidra, Aguadilla and Humacao.
T-Mobile reported that it has restored wireless service in the towns of San Juan, Carolina, Bayamon, Caguas, Cataño, Cayey, Dorado, Guaynabo, Hato Rey, Río Piedras, Santurce, Toa Alta and Vega Baja.
In addition, T-Mobile confirmed it has issued a hold on any billing activity for Puerto Rico customers and will issue a billing credit. Customers will be able to use their equipment as soon as they have a network connection. The carrier will not interrupt the service to its customers and will not charge penalties for nonpayment, said Jorge Martel, general manager of the company in Puerto Rico.
The island's wireless carriers are working together with the Puerto Rico Electric Power authority to restore the telecom infrastructure.