Womentechover launches to help change "face" of tech sector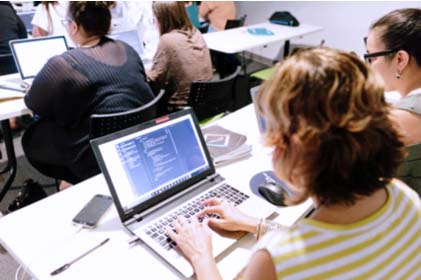 Womentechover will launch at this year's edition of "Animus, Women's Innovation Journey," with the goal of increasing opportunities for women in the tech industry, Sofía Stolberg, founder of Piloto 151 confirmed.
Saying statistics on women's participation in the tech sector speak for themselves, she cited National Center for Women and Information Technology data that shows that women hold only 25 percent of computing jobs, only 11 percent of executive positions at Silicon Valley companies and own merely 5 percent of startups.
In addition, they earn just 28 percent of computer science degrees, according to the stateside organization.
"It's high time for these statistics to change. The opportunities that the tech sector offers are unique and global in nature and we need more female representation in the industry," said Stolberg.
"Womentechover launches as a platform to amplify women in tech providing them with a much needed space to talk about their tech projects, to educate and inspire more women to venture into the sector, and to work with employers who understand the benefits of a more diverse leadership and tech team," said Stolberg.
With its vision of changing the "face" of the tech sector, Womentechover had already experimented with some events and workshops in the past.
However, it was not until news of the Google Manifesto and Uber's misogynistic culture made mainstream media headlines that Womentechover's concept really took flight, she said.
"It was interesting to witness how broader awareness of the underrepresentation of women in the tech sector on a global scale, suddenly translated into an increased interest in the Womentechover offering," Stolberg added.
"We had an intro to coding workshop this past August that sold out immediately and even had a waitlist," she added. "That's when I knew that we were ready to launch Womentechover officially and that we were one step closer to fulfilling our vision."
For Lucienne Gigante, founder of Animus, it made "perfect sense" for Womentechover to launch at her conference.
"Supporting women's economic development is our mission, especially in scalable and global industries like technology. This year, many of our speakers come from the tech world and we hope to inspire more women to take advantage of the opportunities in this high potential sector," said Gigante.