WorldNet launches new, 'refreshed' website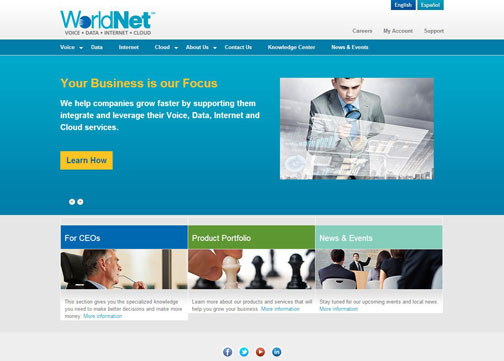 Telecommuncations provider WorldNet announced Monday the upcoming launch of its new website this week, redesigned to feature a "fresh new look and user-friendly navigation."
The site that will go live Wednesday reflects the company's goal to help companies grow faster by integrating IT and telecommunications into their business. The new website is about educating the audience — including customers, media and business partners, the company said.
"We're very excited about our new website launch. It really illustrates our new focus to help government and corporations use the right voice, data, Internet and cloud technology to grow their business," said WorldNet CEO David Bogaty.
"That reflects a big paradigm shift in the market. With this economy and flood of technology, companies and government don't want to hear about the services; they want to hear about how the service will specifically benefit them," he said.
Bogaty added the overhauled website provides information for customers and partners to better understand how to integrate and leverage the right technology for their businesses.
"We aim to be our customer's trusted partner, and that's why our new site is designed to provide helpful tools and specialized content business leaders need to make better decisions regarding how to leverage telecommunications and IT services to advance their goals," he said.
Enhancements to the website include:
Improved navigation – Lets visitors find the information they need to learn more about technology and telecommunications.
Live chat support – Prospects and customers will have immediate access to online support.
Knowledge center – In this section, visitors will have access to specialized educational content such as: case studies, whitepapers and pre-recorded business seminars.
WorldNet's new website will be updated on a regular basis with the latest news, corporate events and business summaries, the company said.