Moody's wrapping up analysis of Puerto Rico credit
Moody's Investors Service is set to conclude its review of Puerto Rico's credit and fiscal situation in coming weeks, when it will focus on key issues of liquidity, budget performance and economic outlook, the New York-based agency said in a report released Thursday.
Specifically, the agency will focus on the following:
Management of government liquidity, as indicated by available and projected liquid assets at the Government Development Bank (GDB, Baa3/RUR) relative to debt service and budget needs in 2014 and 2015;
The commonwealth's ability and willingness to access the long-term capital markets in January;
Key monthly economic indicators, including employment data, retail sales and the Commonwealth's Economic Activity Index;
Monthly budgetary performance, including key December revenues and expenditures vs. budget and projections for 2014 and 2015; and
Legislative actions to reform the Teachers' Retirement System (TRS) and any other governmental initiatives to shore up liquidity or improve its medium term fiscal outlook.
In the 10-page report, Moody's explained each of the areas it is taking a close look at prior to deciding whether to downgrade the island's credit rating to "junk" status.
In terms of liquidity, the agency's analysis on the administration's available liquid assets relative to anticipated and unanticipated liquidity demands on the government.
"Demands include debt service and budgetary needs. Other potential demands include collateral calls related to swap obligations and accelerated debt service that could be triggered by a one-notch downgrade to below investment grade by Moody's or another credit rating agency," the agency said.
While liquid assets at the GDB exceeded $3.7 billion at the end of fiscal 20123, that amount has narrowed due to loans the bank has made to the commonwealth and other authorities.
"GDB's liquidity has declined even as the government has refinanced some loans in the external bank market on a temporary basis. One of these short-term financings, in the amount of $400 million, recently matured on December 1st and was repaid with a further drawdown of GDB cash," Moody's pointed out.
The GDB has said that public agencies, corporations and municipalities maintain approximately $2.8 billion of deposits at private banking institutions, a portion of which could be moved to the GDB on short notice.
"If the GDB acquires more cash through an increase in public sector deposits, its capacity to make loans to other governmental entities would expand," Moody's said.
Meanwhile, the agency noted that the commonwealth has swaps and financings that include collateral and acceleration provisions if a one-notch downgrade by any of the three major credit rating agencies — Moody's, S&P or Fitch — were to occur.
A one-notch downgrade could result in liquidity demands of about $1 billion, including a $400 million Puerto Rico Highways and Transportation Authority bond anticipation note that is subject to acceleration, $172.6 million of swap collateral posting requirements and about $460 million of floating rate notes and variable rate demand obligations that are subject to acceleration.
"We believe this amount can be covered by GDB's current liquid assets, but paying this amount would significantly narrow the remaining cash cushion," Moody's said.
Market access & long-term financing
In its assessment, Moody's said that sharply higher credit spreads fueled the island's decision to scale back planned long-term financings in fiscal 2014, with a third lien by the Puerto Rico Sales Tax Financing Corp.'s (known as COFINA) delayed from its original fourth quarter release.
"The bond sale would provide more permanent financing to fund the fiscal 2014 operating budget deficit of $820 million, repay various short-term debts that funded last year's budget deficit and reduce refinancing risk this year. An inability or unwillingness to access the market in January 2014 would be a negative rating factor," Moody's warned.
The commonwealth plans to borrow a total of $2 billion in the short term, including $900 million in general obligation Tax and Revenue Anticipation Notes (known as TRANs) sometime in the summer, to be repaid with revenue collected during this fiscal year; $333 million in COFINA Bond Anticipation Notes (BANs), scheduled for September; and $400 million in Highway Authority BANs in March, June and September.
Economic growth, jobs below expectations
On the hot-button issue of the Puerto Rico economy, which has been in recession since 2006, Moody's noted that it has taken a toll on the key pharmaceutical sector as well as employment.
While local indicators continue on a negative track, reflecting a 5 percent drop in public and private sectors on the island in 2012, the opposite is true in the U.S. mainland, where jobs have stabilized or increased.
"About 40 percent of the job losses are from the government sector. The figure includes public employees who took early retirement after pension plan reforms and temporary employees hired during the 2012 election. Population, declined by 3 percent from 2005 to 2011 and Moody's Analytics projects that population will continue to fall," the credit ratings agency said.
"U.S. population increased by 5.4 percent over the same period. Unemployment in the commonwealth ticked back up to 14.7 percent in October after reaching a low of 13.2 percent in June 2013. By comparison, the U.S. unemployment rate is at its lowest level since 2009, currently at 7.3 percent," the agency noted.
"And Puerto Rico's real gross product growth estimate for fiscal 2014 was recently revised downward to -0.8 percent versus estimates of +2.4 percent for the U.S.," it said.
The agency acknowledged some slight positive moves in certain economic indicators, noting the Economic Activity Index improved on a monthly basis for September and October, although it is still down year-over-year. While retail and auto sales have shown an uptick, the labor force has also shown modest improvement.
'Biggest revenue months still ahead'
In its assessment, Moody's noted that general fund revenue growth has been good during the first five months of the current fiscal year, at $70 million, or 2.4 percent over estimates.
"Compared with the same five months of the prior year, revenue growth is 12.4 percent, or $335 million, reflecting a sizable package of new and increased tax measures enacted this year. November revenues, however, missed budget targets by $48 million, which highlights that revenue risks remain," Moody's noted.
The largest tax revenue collections are concentrated in three months — December, April and June —, which collectively represent 38 percent of budgeted annual revenue.
"While the commonwealth has indicated that it could readily implement approximately $225 million of cost-cutting, there is still risk that the projected $820 million (8 percent of operating expenditures) fiscal 2014 budget deficit could widen. If December collections are again significantly lower than projections, it would be an indicator of further revenue weakness to come in the second half of the fiscal year and increased risk of a widening of the projected budget imbalance," said Moody's in its report.
While sales tax revenues are up 5.8 percent, or $28 million, through November when compared to the same period the prior year, collections are still 7.5 percent, or $40.7 million, below budgeted projections.
"The commonwealth has stepped up collection enforcement to address this shortfall. This does not immediately affect COFINA bond debt service coverage, but more directly affects remaining revenues available to fund general fund operating expenses," Moody's noted.
"The commonwealth has stated that it plans to further reduce the budget deficit by half in fiscal 2015 and eliminate the deficit in fiscal 2016. We believe this will be a challenge without economic growth," the agency pointed out.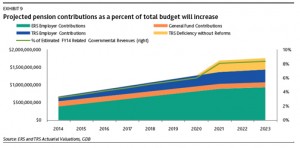 Long-term liabilities
Unsurprisingly, Moody's pointed out in its report that Puerto Rico's debt ratios are very high when compared with U.S. mainland states and even sovereign nations, at $54.6 billion. That figure has remained essentially unchanged over the past year, but is up 23 percent as a percentage of gross product since the recession began in 2006.
"Net tax-supported debt is more than $14,000 per capita and approximately 87 percent of personal income, significantly higher than any U.S. state. While Puerto Rico residents do not pay most federal taxes and therefore do not carry the burden of U.S. federal debt, debt measures are also relatively high when comparing the general government debt loads of similarly rated sovereigns, though wealth levels are also relatively high compared to sovereigns," Moody's said.
The agency also pointed out that Puerto Rico's long-term obligations related to unfunded pension liabilities are also very high, at about $49.6 billion in fiscal 2012.