Access Latina opens 2nd round of financing cohort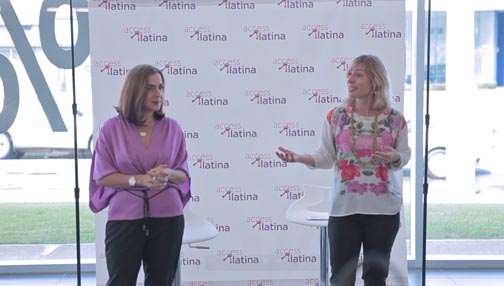 Access Latina, a business acceleration platform for Latina-owned firms headquartered in Florida, New York, Massachusetts, Texas, Washington, D.C., and Puerto Rico, launched its second cohort to compete for a chance at more than $100,000 in capital and resources for latinas to grow their businesses.
Access Latina announced the details for its second round of applications at the Golden Seeds Headquarters in New York City, along with its cross collaboration initiatives with the Stanford Latino Entrepreneur Leaders Program to continue to grow the database of U.S. Latino-owned companies, Meredith Corporation's Siempre Mujer Magazine as a part of their 'Projects That Can Change the World' initiative, and Lili Gil Valletta, creator of Dreamers Ventures and HSN partner to Project American Dreams to select up to three semifinalists to access the fast-track program and be among the twenty semifinalists of HSN's Project American Dreams.
"We are focused on finding ways to fill the gaps Latina business owners face, such as limited access to capital and mentorship. We strive to propel high-growth Latina entrepreneurs and create a network of successful trailblazers," said Lucienne Gigante, co-founder of Access Latina, adding that according to the most recent State of Women-Owned Businesses Report by American Express, Latina-owned businesses created over 550,400 jobs and contributed over $97 billion in revenues to the U.S. economy in 2015.
"As we've seen with our 2016 alumni and their remarkable achievements, latina women represent key engines of economic growth," she said.
Some of last year's finalists went on to compete at Project Runway: Fashion Startup a Lifetime Reality TV show, were profiled by Forbes and TIME, and got a chance to launch a line with renowned business woman and designer, Rebecca Minkoff. The finalists in year one together generated more than $1.2 million in revenue.
To participate, the Latina entrepreneurs need to own at least 20 percent of an early-stage company in the industries of STEAM, social innovation and agriculture. Up to ten finalists and up to five winners are selected by independent judges and will receive:
A three-day acceleration module "Growth Spark" with global leaders;
The opportunity to present their business to Golden Seeds;
Access to seed capital in the form of a grant, crowdfunding rounds with Kiva Zip, and/or direct traditional and non-traditional investment;
Connection to a network of advisors, sponsors, and mentors;
The opportunity to collaborate with other business owners going through the same journey; and
The opportunity to win a $25,000 grant.
"Research continues to validate that Latinas are an under-tapped force and make successful entrepreneurs. They are achieving innovative endeavors, while actively fueling the economy," said Marta Michelle Colón, co-Founder of Access Latina.
"This is the reason and passion behind Access Latina, to drive Latina entrepreneurs' economic potential by opening new channels to capital, resources, and knowledge. Empowering Latina entrepreneurs is good for the economy and has a positive impact in our society," she said.
For more information about Access Latina or to apply to the business acceleration platform please visit www.accesslatina.org.