AirTran adds Ft. Lauderdale-LMM twice-daily route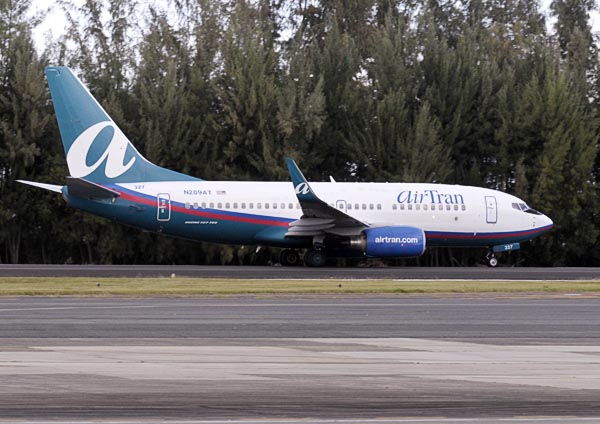 The air route connecting the cities of San Juan and Fort Lauderdale, FL continues gaining popularity, as several carriers have added it to their regular flight schedules. On Sunday, Dallas-based AirTran Airways added itself to that list that includes Spirit Airlines and JetBlue, announcing the start of new service out of the Luis Muñoz Marín International Airport starting in May 2012.
The two daily roundtrip flights between the Ft. Lauderdale/Hollywood International Airport and LMM in Carolina will start at the height of the summer travel season, when scores of families hop on planes to go on vacation.
To celebrate the new route, AirTran launched a sale Sunday with fares as low as $69 one-way.  Customers must book travel by Nov. 27, 2011 to take advantage of the special price.
"We have been very encouraged by the success of AirTran's existing international service and we look forward to building upon that success," said Bob Jordan, Southwest Airlines executive vice president and chief commercial officer and AirTran Airways president.
"Today's announcement of AirTran's new domestic service and planned international service in several markets offers customers even more options when traveling both in the U.S. and abroad, and is a terrific demonstration of the benefits Southwest's acquisition of AirTran brings customers," he said.
Southwest Airlines and its wholly owned subsidiary AirTran Airways completed their merger in May, setting off the gradual integration of the brands. Sunday's announcement marked the first major schedule changes and expansions following the transaction that is expected to yield more low fares and better service for consumers, several analysts have said after the deal closed.
"We continue to set the stage for long-term growth by aligning our current networks to maximize what we each do best," Jordan said. "The next step, which we anticipate will happen in the first half of next year, will be to connect these two strong networks to offer our collective passengers lower fares on more flights, which we believe will greatly benefit consumers and create significant revenue potential for Southwest."