Air America invests $1.5M to make-over charter planes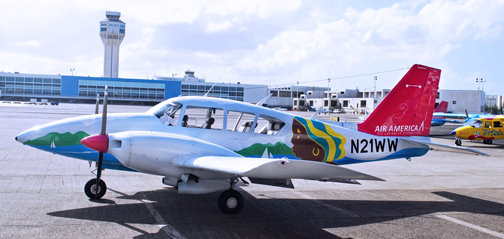 Caribbean charter airline Air America, known for its planes emblazoned with works of art alluding to this region, just unveiled its latest aircraft painted by Puerto Rican artist David Zayas.
With the plane's make-over, the company wraps up its first phase of a $1.5 million investment in the aircraft fleet begun in December 2014, said Tito Feliciano, company president.
Currently, Air America has a fleet of five twin-engine aircraft for five or nine passengers, which, in addition to being painted by different artists who have given their own personality to each one, have been remodeled inside, including their communication and navigation equipment.
"We have gone the extra mile to finish the remodeling of our fifth plane before the start of the high tourism season in the Caribbean, since between the months of November and April we expect a significant increase in flights, due to visits from tourists mainly from the United States [mainland]," said Feliciano.
"Also, during this last year and as part of the preparation for the season, we have worked with price adjustments to be much more competitive in the market and we have recruited new staff with excellent customer service skills," added Feliciano.
Air America flies from its base at the Luis Muñoz Marin airport to destinations in the Caribbean, with the most frequented being Vieques, Culebra, Virgin Gorda, St.Barths, Anegada and Tortola.
Since Feliciano acquired it in 2014, the company has experienced continuous growth and has maximized its services, he said. It plans to expand its fleet and routes in the near future.